Sega Rally Arcade Machines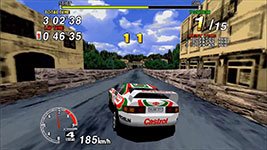 One of the most popular arcade games of all time - Sega Rally - has also proved a huge hit in homes and games rooms around the country.
That is no surprise - given it was one of the first truly immersive racing games (and also delivered some great racing as well!). The force feedback gave a real connection to the game and the cabinet just made you want to play.
Add to that a truly awesome multi-player experience linking up to 8 individual players and you have a winning formula.
The game itself has evolved from the original Sega rally through Sega Rally 2 (an extremely popular version), SR3, SR Championship and beyond.
At Liberty Games we always have stock of one of more of these games, so please see the list below for our current stock.
Found Products - Showing All