Time Crisis Arcade Machines
You want it? Then come over here and TAKE IT!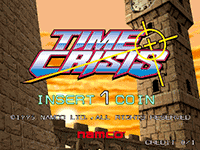 There is no doubt that Time Crisis has been one of the most iconic arcade games over the last decade and a half.
Famed for its fast-shooting action, and exciting dual-player options the game became an instant hit when it was launched in the late 90s. It has survived through several iterations, each improving on the graphics and sound but keeping the same hide & shoot gameplay form the original. And who can forget the click from those reassuringly heavy guns?
Whilst these machines were extremely expensive on their initial release, refurbished cabinets can now be purchased at a substantial discount. So why not take on the challenge?
Found 3 Products - Showing All 3