Branded Table Football Tables
Football tables are ideal ambassadors for brands and businesses. They're great fun to play (of course), and nobody can resist stopping by for a game.
Foostball table cabinets are usually quite simple, rectangular shapes. This makes them ideal for brand-ing. We use high-resolution, precise-cut vinyl graphics to really make your logo or artwork pop.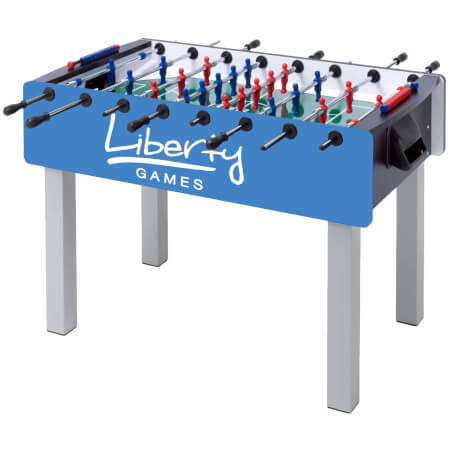 Product shown above: FAS Focus Football Table
Branded Pitch Side Slopes (hoardings)
Painted Players (single block colour)
?
Branded Interior Cabinet Walls
Intended quantity - Under 4 units?
Show Prices:
* quantity discounts available
No minimum order quantity
Business finance available
Where Can I Apply Branding?
Branding is applicable in three areas of the football table.
Full Exterior Wrap
This is a set of printed adhesives that are designed to cover each of the four sides of the cabinet. Once fitted, the cabinet is totally transformed.
Branded Pitch
This printed artwork is intended for tables with glass playfields. It is fitted to the interior pitch base and then covered with the glass panel. It's a more subtle alternative than a full wrap.
Pitch Side Slopes
These slopes surround the playfield and return any errant balls into play. They can be branded with graphics, which makes for a really subtle detail. It also resembles the pitch-side advertisements that you'll see on real football pitches.
You can have any combination of the above areas branded as you require.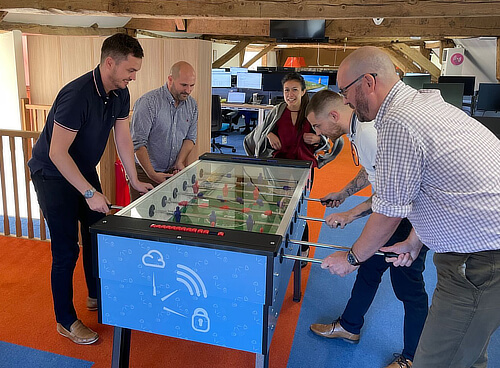 Where Can I Have a Branded Football Table?
In Your Office Break Room
Your employees will love having a company foosball table in the break room. It's been shown that quality break time with cooperative gameplaying can help teams to bond, boost alertness and concentration, and create a positive atmosphere in the workplace.
Your office foosball can become a focal centrepiece for staff and visitors alike, resplendent in a unique, custom-made branded livery promoting your brand.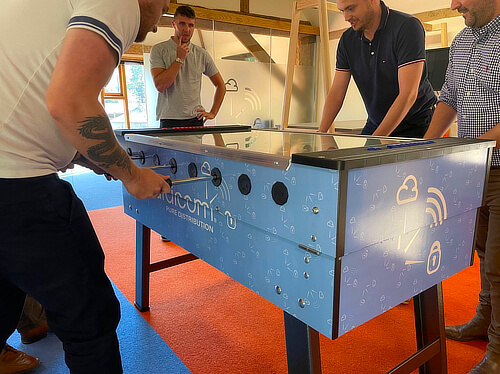 On Your Exhibition Stand
A foosball table makes a great brand ambassador at a conference or exhibition. Attract visitors to your stand by inviting them to play a game on your branded table.
It breaks the ice, opens dialogue and keeps people on your stand for longer. It also makes your stand look and sound more active - which is ideal for attracting interest - and gets visitors talking informally to your staff, building a positive relationship right from the get-go.
And if you don't want your staff standing around looking bored, a football table keeps them alert, cheerful and ready to speak to potential clients.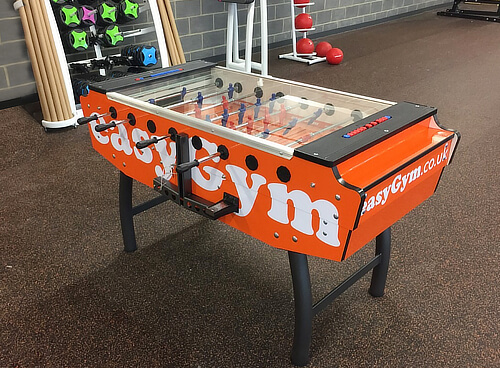 Prize Giveaway
A branded foosball table makes a fantastic prize giveaway for promotions and marketing initiatives.
In Your Home Games Room
Football table branding isn't limited to commercial applications. If you want a table with unique artwork - perhaps your team colours, or your favourite beer, or even a fun project like a Donald Trump v Kim Jong Un "Nuclear Foosball" table - applying branding is easy.
What Do You Need From Me?
Artwork Assistance
Supply us with your print-ready, hi-res artwork, and our in-house team will resize it to best fit each panel. You will be shown a proof for approval and mockups on request before the job is finalised and printed.
Artwork Design
Supply us with your media assets such as logos, icons and brand colours, and our in-house design team will create a design from scratch. We'll work with you to create the perfect artwork, supplying proofs for approval or adjustment as we go.
How Long Does It Take?
Once you've placed your order and sent us your artwork, or approved the artwork we have produced for you, we will print it onto quality vinyl and apply the graphics in our workshop. Your new branded table is then ready to be delivered by our fulfilment teams.
Contact us to discuss your custom branding requirements.
Other Brandable Products: