Buying Advice

Pool Cues

(3)

>

Accessories

(2)

>

Air Hockey

(13)

>

Arcade Machines

(3)

>

Commercial Equipment

(3)

>

Jukeboxes

(9)

>

Multi Games

(2)

>

Pinball

(4)

>

Pool Tables

(18)

>

Shuffleboard

(3)

>

Snooker Tables

(7)

>

Table Football

(7)

>

Table Tennis

(2)

>
Pool Cue Buyer's Guide
Sections in this video
6:05
Different Pool Cue Joints
Overview
The cue is the single most important piece of equipment for any pool or billiard player. It is the link between you and the game, and you will rely on it in order to play accurate, powerful shots time after time.
Pool cues come in a vast range of sizes, finishes, joint options, tip sizes and more. So how do you choose which is the best for you?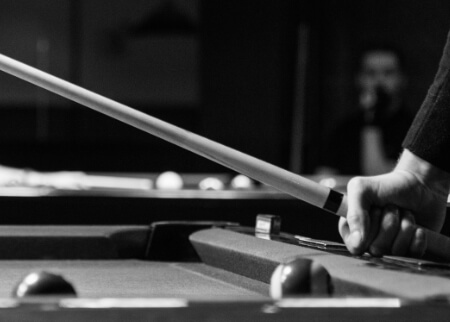 American or British
Your first choice is whether to buy an American-spec cue or a British-spec cue. This will depend entirely on whether you're an American or British pool player. The games, the equipment and the cues themselves are quite different. Read more in our guide on British vs American pool.
American-spec pool cues have larger, wider tips, which allow players to hit harder and enjoy faster, more powerful shots that roll further. This is of course ideal for large American pool tables with wide pockets and fast nylon cloths. And American pool balls are larger - and heavier - than their British equivalents.
British-spec pool cues have smaller tips, and are designed for the more considered game of eight-ball, played on a smaller British pool table. Here, shot power is not as important as accuracy and control.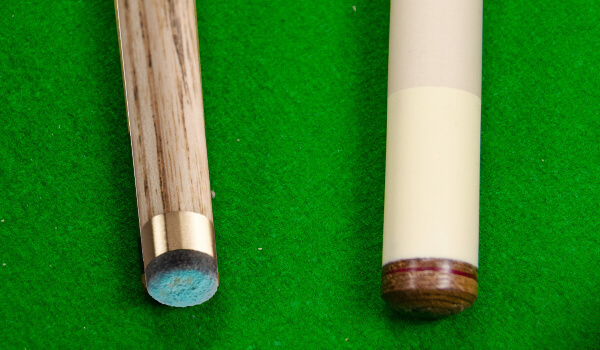 British (left) and American (right) pool cue tips
Length
A standard cue length is considered to be 57 inches. This should suit most adults. Also appropriately-sized for adults, but ideal for younger or shorter players, are 48-inch cues.
For very young players, a range of 36-inch cues is available. These are usually of no use to adults, except for those playing on tables in cramped rooms. Sometimes a 36-inch cue can be used if you don't have the room to wield your usual 57-inch cue.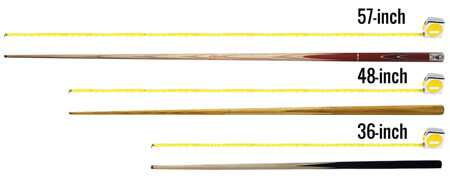 One Piece, Two Piece or Three Piece?
Most billiard cues come in either one piece or two pieces. The perception is that one-piece cues are the best for game performance, as they have no moving parts or joints in the shaft, so shot power is transmitted cleanly and directly from your arm into the cue ball.
However, with modern cue-making practices and the use of good quality materials, this perception is largely outdated. Any decent two-piece or even three-piece cue will play just as well as its one-piece cousin, and you can see professional players using them in important games regularly.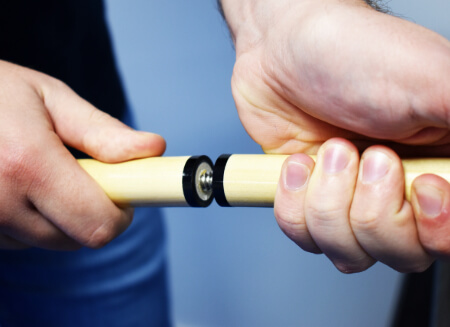 The main benefit of a two-piece billiard cue is portability. It can be quickly unscrewed and packed into a smaller bag or cue case. This makes it easier and more discreet to carry, and also less obvious to would-be thieves (for example if you have to leave it in your car).
Modern cue joints are made of metal and are very precisely machined for a really secure fit, so once firmly tightened, there is no loss of shot power and the cue is completely straight.
There are a few three-piece pool cues around. These tend to have a main joint in the middle of the cue, with the addition of a second joint in the butt. This is usually done to have a short (around eight inches) section that can be quickly removed for clearance in tight spots.

Different pool cue joint types.
1/2 Joint or 3/4 Joint
Some cues come in two pieces, but with the joint at the three-quarter position rather than the half. This 3/4-joint cue style originally appeared in snooker, where longer extensions could be attached to the cue for use on full-size snooker tables. Eventually the style appeared in pool cues, where the detachable butt section really helps players with limited space around the table. And they're still more portable than a one-piece.
Butt Extensions
Many pool cues are fitted with a thread at the end of the butt. This allows you to fit a butt extension. These are most often made of a heavy wood and add a little more reach to your cue - most butt extensions are under 10 inches in length.
Some pool cues come with butt extensions included. These are not considered to be part of the cue's overall length, so if it is described as a 57-inch cue with a 9-inch butt extension, when assembled the cue would measure 66 inches in length.
Weight
The most important factor in choosing your cue weight is not shot power or muscle strength, but balance. The weight of a cue is instrumental in dictating how the cue balances in your hands, and how this matches your playing style. You can use the filters on our website to see light, medium and heavy weighted cues.
In general terms, most cues are weighted between 16 and 18oz. This is an ideal intermediate area to start testing with.
Weight is added to a pool cue through the use of a heavy hardwood to make the butt section. Ebony is a popular choice, as this is a dense wood with plenty of weight. By carefully using the right amount of ebony in the butt, a cue can be built for light, medium or heavy weight.
Some cheaper cues don't use ebony or other hardwoods in the butt, and instead have an insert made of a dense material, ie lead.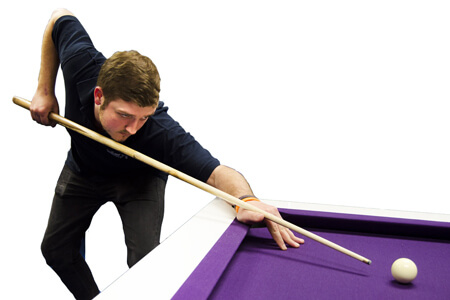 Tips
Usually you will play with the tip fitted to your chosen cue as standard, but when it comes to replacing your tip, you can experiment with the size and hardness. You could also select a cue that has a particular tip fitted, if it suits your style.
Glue-On or Screw-On Tips
Most billiard cues use glue-on tips. These are easy to replace when worn and tend to offer better performance for serious players. They are also ideal for personal cues that are well cared for.
Some cheaper cues use screw-on tips instead. These are designed to be quicker and easier to replace, and are well-suited to communal cues in pubs or clubs.
If you are buying a cue for your own use, we would usually recommend a glue-on tip.
Tip Size
The size of your tip can affect your game. It should always be the same diameter as your shaft – no smaller. A smaller tip will give you more control over spin, but may also cause more miscues. A larger tip will give you less spin control, but a more powerful, consistent shot.
With American cues, the standard size is usually around 12 or 13mm. With British cues, the standard size is around 8 or 9mm. You should start with tips of this size, and then experiment with different tip sizes as your skills develop.
Tip Hardness
The rule of thumb is that a harder tip transmits more force into the cue ball. This makes a harder tip better for breaking, jumping, or for those long power shots. The drawback is that a harder tip gives you less control over spin, and it can provoke more miscues. Some hard tips are made of more dense material, such as phenolic resin.
A softer tip allows you to use more spin techniques and advanced control methods, but it will take a little power out of your shot. Soft tips are generally made from a soft leather material.
Most people play with a medium tip, and you'll find this a good compromise across all aspects of your game. But as your skills develop, you may want to take two cues to a game – one with a hard tip for breaking and power shots, and one with a soft tip for precise control.
What is the Splice?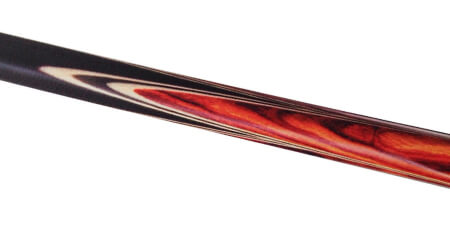 The sycamore & tulipwood hand splice on a Maverick pool cue. (From £129.00) [ view in store ]
The splice is the section where the cue's main shaft is connected to the butt. Here, two different pieces of timber are joined together. The shaft is usually ash or maple, whilst the butt is usually a heavier wood than the shaft, such as ebony. It is also a noted stylistic feature, giving cue designers a great excuse to put a personal stamp on the cue with exotic timber splices, pinstripes and elegant veneers. On cheaper cues, you might find decals or basic paint designs here instead.
Hand or Machine Spliced?
There is plenty of debate over whether you should choose machine-spliced or hand-spliced. This explains whether the splice itself was made and connected by hand or by a machine. With modern cue-making technology, a machine splice isn't necessarily a bad thing, especially if coming from a reputable brand. But for some people, the intimacy of owning a cue spliced and finished by a craftsman's hand is worth paying a little extra for.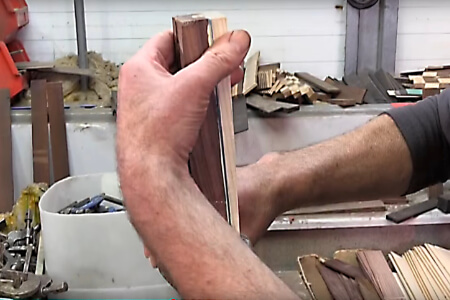 A Cue Craft cue being spliced by hand.
Storage & Care
If looked after properly, your cue will provide years, if not decades of great gameplay.
It should be stored vertically in a cue stand or similar, and kept out of direct sunlight and extremes of temperature (so not next to your radiator). This will prevent warping and fading. The alternative is to keep it in a dedicated cue case where the cue is supported along its entire length.
Once or twice a year, you should oil your cue with linseed oil. Simply clean the cue with a dampened cloth, and then apply the oil sparingly using a cloth or paper towel. Leave it overnight before buffing off the excess in the morning.
Never use sandpaper or abrasives on your cue. This will damage the sealer.
Tip Replacement
When your cue tip is worn out, it needs to be replaced.
How to replace a cue tip:
Select a cue tip of the same size from our range of replacement cue tips.
Cut the tip from the cue using a sharp knife. Cut right up against the ferrule.
Clean and gently sand the underside of the cue tip, and apply cue tip cement.
Press it onto the cue at the end of the ferrule, and press down to squeeze out air. Hold it here tightly for around 15 minutes.
Shape the cue tip with a cue tip shaper. Trim off any protruding parts and shape the tip according to your personal preference.
You can buy cue tips, tools, cement and other cue care products here to help you replace, shape and glue your tip.
A Pool Cue as a Gift
Pool cues make great gifts. Whether the recipient is a seasoned professional who travels to play in tournaments, or a keen amateur with a table at home and a family to entertain, there's a cue out there that'll suit their game perfectly.
The main thing to be sure of is which game they play - American or British pool. Most adult players will be best suited to a standard-length 57-inch cue, although a 48-inch cue is also perfectly good for most adults and older children. If they travel to play, then a 2-piece or 3-piece cue might be ideal. But if they play at home, a 1-piece could be the best.
Go Buy A Cue
Now you know what to look for, check out our ranges of British pool cues and American cues, and find that perfect cue for you and your game.
This article was written by Liberty Games staff member

Sales Manager at Liberty Games. Pool table specialist & pinball wiz. Film & cinema nerd, with a mental database of every episode of The Simpsons ever made.