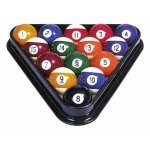 Durable triangle.
Suitable for use with 2 1/16-inch diameter balls.
A high-impact, durable plastic triangle that is both economic and well designed for 2 1/16-inch size billiard balls!
Please click to see more...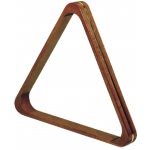 Made from high-quality dark wood with a brass lining
For use with full size Snooker ball sets
A dark wood snooker triangle for Snooker balls measuring 2 1/16 inches in diameter!
Please click to see more...

Can't Find What You're After? - We can help!
Liberty games offers a finder service for all aspects of games room equipment.
Please call us on 0800 612 8180 or click here to contact us.