Buying Advice

Arcade Machines

(3)

>

Accessories

(2)

>

Air Hockey

(13)

>

Commercial Equipment

(3)

>

Jukeboxes

(9)

>

Multi Games

(2)

>

Pinball

(4)

>

Pool Cues

(3)

>

Pool Tables

(18)

>

Shuffleboard

(3)

>

Snooker Tables

(7)

>

Table Football

(7)

>

Table Tennis

(2)

>
How are Arcade Machines Refurbished?
A refurbished arcade machine can be a great way of owning a classic arcade at a knockdown price. No matter the age, you can buy with confidence, with the reassurance of a complete overhaul by our trained technicians and a long warranty.
Our staff have many years of experience in working with arcade machines of all kinds. We work through a diligent checklist that covers every aspect of the machine, and finish with extensive play-testing to ensure everything functions as it should.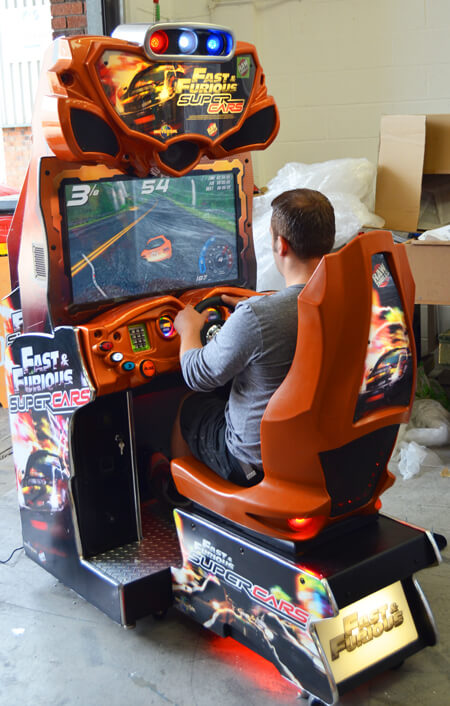 The Fast & Furious Super Cars arcade being play-tested.
The testing checklist differs from machine to machine, but always includes:
1. External safety check.

The machine is checked to ensure that it's solid, complete and secure. Feet, bolts and mounts for screens etc are inspected, and the whole cabinet is left ready for many years of play.

2. Cosmetic analysis.

All graphics, stickers and paintwork are checked for damage. Any necessary repairs are completed to ensure that the machine looks fantastic.

3. Trims.

All trims are inspected and replaced if needed.

4. Internal check.

Service doors are opened and the contents fully inspected. This gives technicians the opportunity to find any weak spots or problems before they develop, and apply a repair.

The SEGA After Burner Climax Deluxe in a customer's home.

5. PC Servicing.

Modern arcade machines tend to have high-spec PCs at their core. We open the PC and blow out any dust, and reseat and check all connections. We inspect and replace the cooling fans if they're noisy or faulty. Memory batteries are replaced as a matter of course, and monitor connections and power leads are replaced.

6. Internal Electronics.

We perform a full visual wiring inspection. We replace broken wires and repair dry joints and failed solder joints. We then test all circuits with a meter and finally PAT test to ensure electrical safety.

7. Monitors.

All monitors are inspected for colour, clarity, dead pixels and any other display problems. They are replaced if necessary.

8. Monitor Upgrades.

If a machine with older CRT monitors has display problems when tested, we will upgrade the monitors to modern LCD or LED monitors to ensure future reliability.

9. Controllers.

All controls are thoroughly checked for good operation. Joysticks, buttons, the guns on shooting arcades, the steering wheels on driving and racing arcades, and other controller types are tested throughout their movement and replaced if needed.

10. Calibration.

Calibration of relevant controllers (ie light guns) is checked and, if necessary, recalibrated.

Play-testing the Rambo shooting machine. (From £4995.00) [ view in store ]

11. Lighting & LEDs.

All light displays and LEDs are tested to ensure functionality. Broken bulbs or LEDs are replaced.

12. Sound System.

All speakers are tested for volume and sound quality. The entire sound system is extensively tested to ensure full functionality.

13. Play Testing.

Our hard-working team members extensively play-test the machine to ensure everything is working as it should. It's a hard job, but someone's gotta do it.
After this, the machine is signed off for delivery, and is crated up ready to go to its new home.
We include a comprehensive warranty with each refurbished arcade, for your peace of mind. This covers your machine against all damage apart from wear and tear for 12 months in the home, or six months in a commercial environment.
You can browse our full range of refurbished and new arcade machines on our website here.
This article was written by Liberty Games staff member

Technical wizard and warehouse manager at Liberty Games. A skilled, seasoned technician, whether rewiring arcades or levelling pool tables. Enjoys film soundtracks by the likes of Hans Zimmer and Vangelis, usually at full, door-rattling volume in the workshop.