Buying Advice

Arcade Machines

(2)

>

Accessories

(2)

>

Air Hockey

(12)

>

Commercial Equipment

(2)

>

Jukeboxes

(8)

>

Multi Games

(2)

>

Pinball

(3)

>

Pool Cues

(3)

>

Pool Tables

(17)

>

Shuffleboard

(3)

>

Snooker Tables

(7)

>

Table Football

(6)

>

Table Tennis

(2)

>
Arcade Machine Buying Guide
Thinking of buying an arcade machine? Read our comprehensive guide for all the answers you'll need. Use these quick links to jump to the section you need, or relax, make a brew and digest it all.
Overview
For more than 40 years, arcade machines have transported eager players into countless universes. Since the early days of Pong, Pac-Man and Space Invaders, they've become an essential part of any amusement arcade. And increasingly, they're becoming a part of the home games room too.
A new generation of gamers, raised on consoles and online gaming, are increasingly taking an interest in oldskool gaming, driven by the resurgent popularity of games made in the 1980s and 1990s. This subculture is now known as 'retrogaming'. Often this interest is helped along by a family member who played in the arcades decades ago. We're seeing lots of families who enjoy playing video games together, often with children learning to play a classic retrogame with their parents.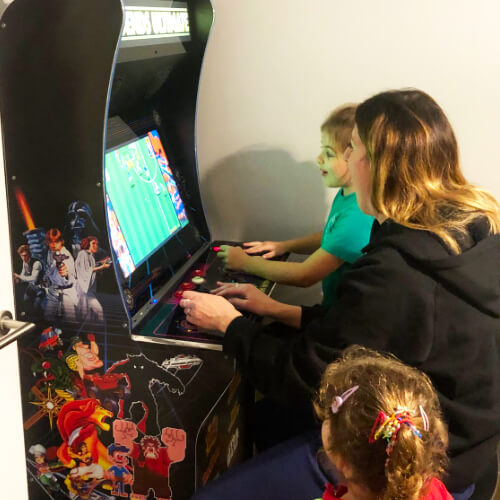 A family playing the AtGames Legends Ultimate arcade machine. (From £799.00) [ view in store ]
If you're looking to install an arcade machine in your home or business, or even in your office's breakout area, there are a few things you need to know. In this guide we'll cover all the bases, so you can make your purchase fully-informed.
Choose Your Game
The first thing to be sure of is that you're getting the game or games that you want. There are countless video games out there, spanning more than 40 years of development. For many, buying an arcade machine is the realisation of a lifelong dream; to own the exact same arcade machine that swallowed up so many 10p pieces all those years ago.
If you're buying a single-game machine, you probably already know what you want. Perhaps you want to relive those frantic two-player duels in the latest Time Crisis shoot-em-up, or join Mario and friends in Mario Kart GP DX.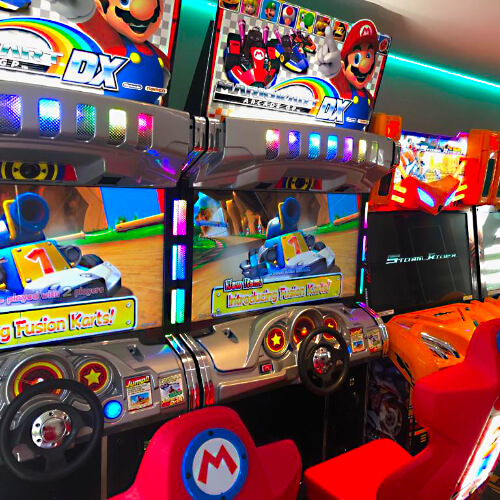 A Mario Kart GP DX Twin arcade machine installed by Liberty Games. (From £14995.00) [ view in store ]
However, on multi game arcades, you'll be able to play and access a huge range. On most listings, the game list is laid out for you and is searchable, so you can check that all your old favourites are present before you buy.
Multi Game Arcades
These clever machines really are the best of all worlds. They're designed primarily for home gamers, but some, like the tough, robust Cosmic range, are suitable for communal areas like shared common rooms and student accommodation, too. These machines are packed with selected games, generally older games from the 1990s or earlier.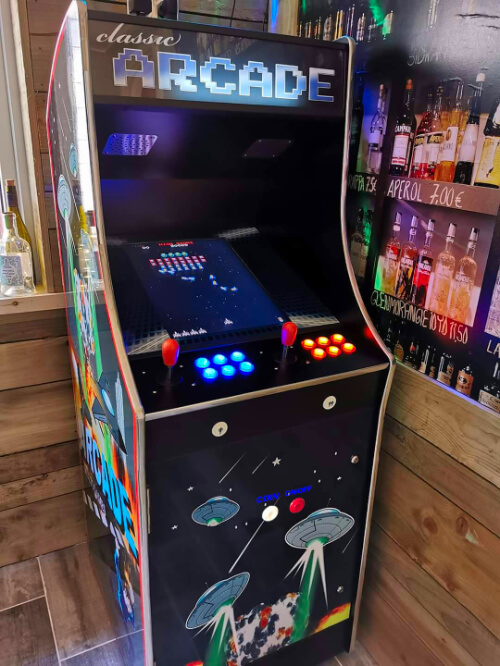 A Cosmic 80s Plus multiplay arcade machine. (From £1195.00) [ view in store ]
Multi game arcades come in a variety of cabinet styles. Most common is the full-size upright arcade cabinet, but the multi-game format also works well in vintage-style cocktail arcades, or the compact bar-top style. Arcade1Up arcade machines look just like full-size upright cabinets, but are built to a more compact 3/4 size. There are even coffee table multi game arcade machines, for the ultimate in low-slung gaming comfort.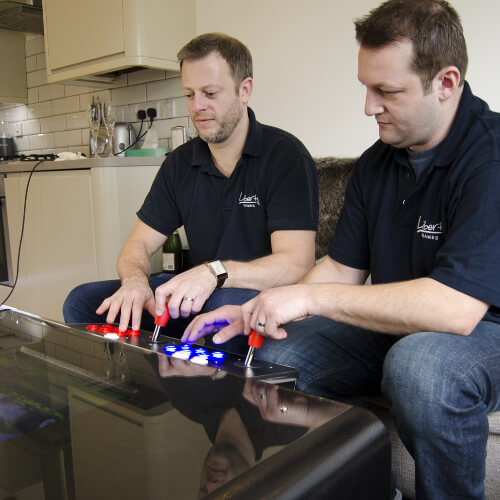 Playing a game on the Galaxy coffee table arcade. (From £1475.00) [ view in store ]
Within moments of turning a multi game arcade on, you'll be able to browse a menu and choose from a range of games - and start playing your favourites. Some, like the AtGames Legends Ultimate 300, are highly upgradeable, so you can expand your library of games with whatever you choose, or add extra controllers or game services (like contests and scoreboards). Others, like the Arcade1Up range, are designed to be super-simple, and get you straight into the action with no fuss. For many of our retrogamer customers, a good multiplay offers more gaming variety and action than they'll ever need.
Arcade Consoles
Smaller and more versatile than multigame cabinets are the arcade consoles. These are compact control surfaces that connect to your TV or monitor, and from there to your other home entertainment systems, like surround sound.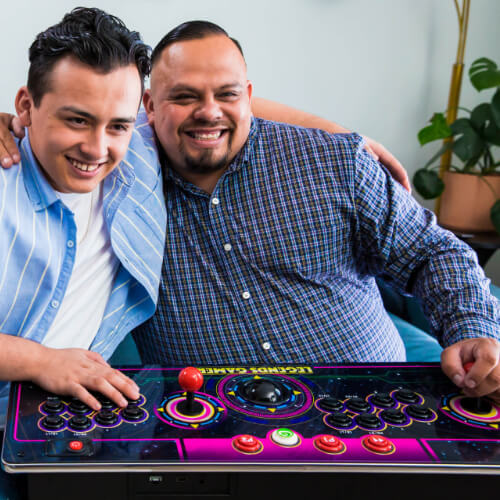 Friends playing on the AtGames Gamer Pro arcade console. (From £255.00) [ view in store ]
They're available in various different formats, such as the Gamer Pro with two sets of controls, and the Gamer Mini with one. But so versatile is their connectivity that often they can be combined for larger multiplayer games, and connected to other devices like games consoles or PCs. In some cases, like the Legends Core, you can even buy the main hub unit individually, without controls, and use it with your existing game controllers.
Connecting to the internet to take advantage of the almost infinite retrogames content online, they're often the ideal purchase for a space-conscious family gaming centre.
Dedicated Commercial Arcades
These impressive arcade machines are the real thing. They're the same machines that are sold to amusement arcade operators, bowling alleys, holiday parks and other commercial venues. Originally, these were upright arcades built into standard cabinets of similar dimensions. Some of these classic arcade machines are still available as reconditioned items.
In recent years, dedicated arcades grew into large, elaborate cabinets. Sometimes these are fitted with seats and suitable controls, like guns, or steering wheels for driving or racing games, or joysticks for flying games. Many have seats, with powerful speakers fitted into the seat units. Some, like motorcycle racing games, use the seats as a controller, so you lean the bike to steer. Others, like After Burner Climax SDX, have full-motion cabinets that move as you play.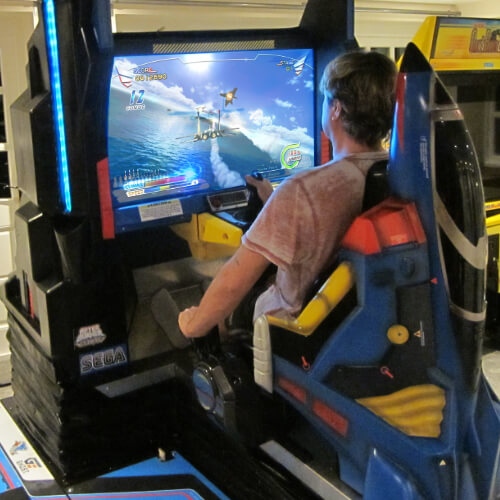 The After Burner Climax SDX arcade machine installed by Liberty Games. (From £5695.00) [ view in store ]
Some arcade machines can sometimes be linked for multiplayer gaming. Two machines, side-by-side, connect by physical wire to give the fastest, most accurate multiplayer game possible.
Other commercial arcades are even more elaborate. Dance arcade machines are built with pressure-sensitive pads on the dance floor, and players must follow the action on screen with some fancy footwork.
Boxer arcades are built around a large punchbag - these are the original test-your-strength machines, so popular in amusement arcades. And basketball arcade machines feature a hoop and a score counter for shooting practice.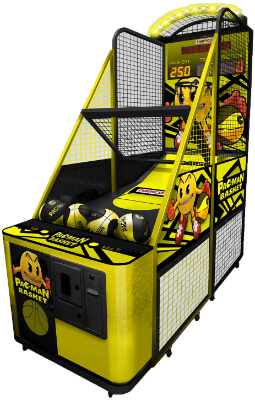 The Namco Pac-Man basketball machine. (From £5995.00) [ view in store ]
They are expensive, and they can be very large. But if you've got the space, sometimes nothing else will do.
Other Arcade Machines
The variety of games machines in amusement arcades is wide indeed. You can play novelty redemption machines; arcades built around a simple game that offers prizes. Examples of these include the famous crane machines, where you control a claw that picks up prizes and drops them into a chute. Skee Ball machines, a relatively recent arrival from the USA, borrow aspects of bowling but in a much more compact package.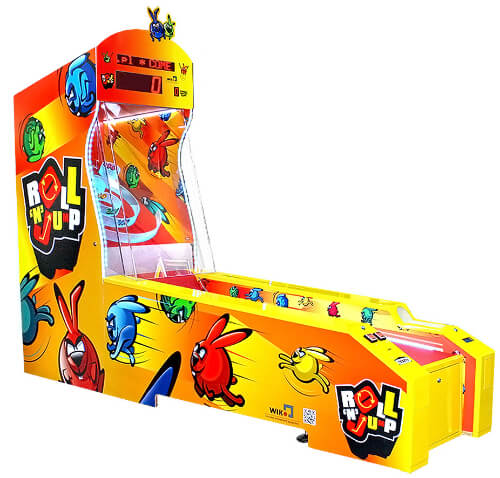 The Roll & Jump Skee-Ball arcade machine. (From £5995.00) [ view in store ]
New or Reconditioned?
Commercial arcade machines are often available as reconditioned items. This means they've been preowned, often by a commercial venue like an amusement arcade. At Liberty Games, we sell both new and reconditioned machines. We take in good-quality used machines and fully refurbish them. Our trained technicians check the machine from top to tail, and play-test it extensively before it goes to its new owner. And you'll get a warranty too, for your peace of mind.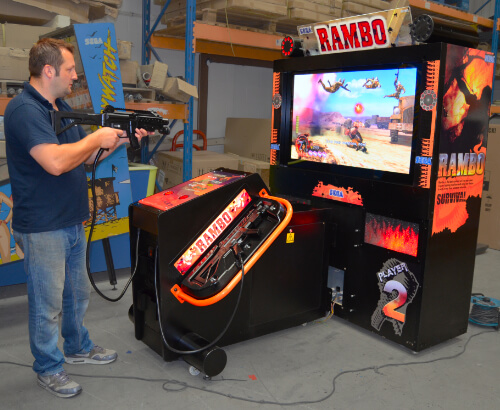 Play-testing a reconditioned Rambo commercial arcade machine. (From £4995.00) [ view in store ]
Usually, reconditioned arcades are discontinued machines that are long since out of production. In many cases, and especially with older, classic arcade rarities, this is the only way you'll be able to own one of these iconic machines.
Space
Arcade machines don't need as much space as some other games room installations, like pool tables. The smaller multiplay arcades just need enough space for the machine and room in front for two people to play together. Some of the larger arcades need rather more floor space, though, and you should carefully measure up your room and make sure it'll fit.
Remember to leave plenty of room for players to stand, and for any moving parts to be able to move through their entire range.
Internet Connections
Some arcade machines need to connect to the internet in order to work - particularly multiplay arcades. This enables you to download more games on some models, and also to obtain patches and updates when issued. In some cases, you can even request remote tech help from staff who remote into your machines for troubleshooting.
We'd always recommend using the fastest Wifi you can get your hands on, especially for those machines which stream games directly from central servers. If your arcade is going into a room some distance from your hub, you might want to invest in a signal booster. And in some cases, it may be beneficial to use an ethernet cable to connect your arcade directly to the hub.
Accessories & Options
Arcade machines are pretty much sealed units. You probably won't be buying add-ons for large, commercial arcades.
One option that you can control is the coin mech. As commercial arcades, these machines are generally built with coin mechs with which players can buy game tokens. You can specify whether to leave your coin mech operational, for public areas or even for using as a piggy bank at home. Or you can have it disabled. Another option is to add a contactless payment system, a new cashless credit system that is suitable for more modern arcades.
But some arcades, like multiplay arcades, are different. The AtGames Legends Ultimate, for example, is highly upgradeable, with a host of exciting accessories like pinball button upgrades and light guns available. It can also be upgraded with new games, interactive features like shared scoreboards and live game streaming, and much more.
And the Apex, Evo and Nu-Gen can be customised extensively, with performance boosts, clever technology like 3D tracking and BOSE sound, and cabinet colour options too.
Many arcade gamers like to have somewhere to sit whilst playing. Those gaming sessions can go on all night, so adding a comfortable stool or seat to your order could be wise.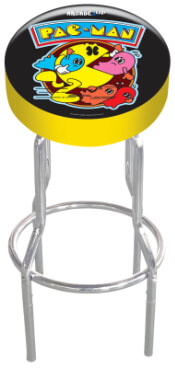 The Arcade1Up Pac-Man stool for gamers. (From £79.99) [ view in store ]
Installation
Smaller, standard arcade cabinets, cocktails, coffee tables etc are generally delivered complete, or with very minimal assembly required. Here, all you'll normally need to do is plug it in and switch it on.
The journey your machine has to take through your house also needs to be considered. Standard upright arcade cabinets usually fit through a standard doorway in one piece. Anything larger will likely need to be disassembled and brought into the area piece-by-piece. In these cases, we include installation by trained arcade technicians.
What Next?
Now you have a rough idea of what to look for in an arcade machine, browse our extensive range of arcade machines and gaming products, and fulfil your lifelong video game dream.
This article was written by Liberty Games staff member

Technical wizard and warehouse manager at Liberty Games. A skilled, seasoned technician, whether rewiring arcades or levelling pool tables. Enjoys film soundtracks by the likes of Hans Zimmer and Vangelis, usually at full, door-rattling volume in the workshop.