Buying Advice

Multi Games

(2)

>

Accessories

(2)

>

Air Hockey

(12)

>

Arcade Machines

(2)

>

Commercial Equipment

(2)

>

Jukeboxes

(8)

>

Pinball

(3)

>

Pool Cues

(3)

>

Pool Tables

(17)

>

Shuffleboard

(3)

>

Snooker Tables

(7)

>

Table Football

(6)

>

Table Tennis

(2)

>
Multi Games Table Buyer's Guide
Multi games tables are perhaps the ideal compromise for busy homes, with a choice of game built into a space-saving design.
Read our guide to learn all about these impressive tables, or use the quick links to skip to the bits you need to know about.
Overview
Multi Games Tables are games tables that feature two or more games in one package. Some are built with neat space-saving, game-swapping designs, like rotating playfields or lift-on surfaces. Others are more basic – even a folding snooker table sold with an additional set of pool balls could be considered a multi games table.
What is the Benefit of a Multi Games Table?
A Multi Games Table is a great feature for a family home. Younger children can have short attention spans, so having the option to swap between other games keeps them interested.
You can choose a table that features games you know will be popular, and often gain some extra games in the mix, too. This means you get much more playability and variety from a single purchase.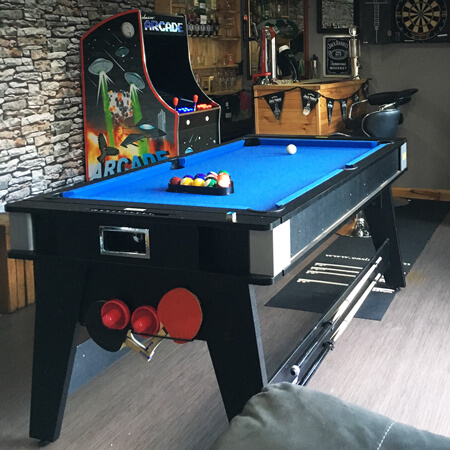 A Strikeworth 6ft Multi Games table. (From £489.00) [ view in store ]
What are the Most Common Games?
Pool is a popular addition and is present on many tables, and air hockey too. Larger tables like the Strikeworth 6ft and 7ft multi games tables feature these plus table tennis, with plenty of room for players of any age and build. These tables often feature large, rotating table bodies that can simply be flipped between games.

A Strikeworth 7ft Multi Games table changing between games. (From £695.00) [ view in store ]
Smaller tables may have these games, but usually miniaturised versions designed more for children. Some smaller tables, like the Goal, are packaged with a large range of games, from foosball and basketball right through to chess, shuffleboard and even football.

The Goal Multi Games table. (From £149.00) [ view in store ]
There are tables that cater for almost every game combination you could wish for, so research carefully and make sure your choice delivers.
How Much Space Do I Need to Play?
The game on most multi games tables that requires most space is pool (apart from a few, like the Goal, which feature games like football and basketball). You will need to ensure that you have enough room around the table for cueing.
Measure up your room and use the calculations in our Pool Table Room Size Guide to check what size table you can have. You'll need to know the length of the cues supplied with the table too – you can check this on the table's listing itself.
You should also check whether the table requires mains electricity. Some, especially those with air hockey playfields, will need to be plugged into a wall socket.
Follow the steps below to accurately calculate the minimum room size you need for your table and cue.
Measure the length of the cue you will use and double it. A standard 57-inch cue is 145cm in length, so when doubled, this measures 290cm.
Measure the playfield width from the inside edges of each cushion. In the case of our pool table below, the playfield width is 82cm.
Add the total playfield width (82cm) to the double cue length measurement (290cm) to create a final figure (372cm). This is the total minimum room width you need.
Repeat the exercise with the playfield length (again, measuring from cushion to cushion). In our case the playfield length is 160cm, so when added to the 290cm combined cue measurement, this gives you a length of 450cm. Your final results are the minimum room dimensions you'll need to play your chosen table with your chosen cue.
You can see how to measure the table and cue below, and how to calculate the minimum room size you need. This shows how to measure the room width needed to install a typical British 6ft table.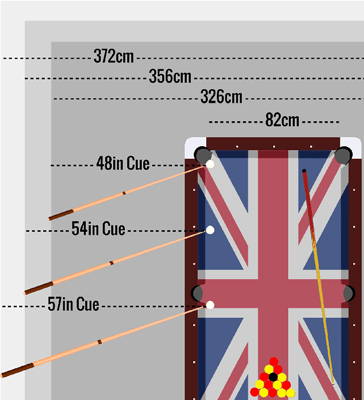 All dimensions here are approximate, taken from various models within our range, and are not universal. You should carefully check the precise dimensions of the table you want and recalculate before buying.
We've done the calculations below with some of our most popular multi games tables, with three common cue sizes. The highlighted size is the cue that comes with the table.
| Table | Table Size | Playfield Size | Room size req'd with 36" cue | Room size req'd with 48" cue | Room size req'd with 57" cue |
| --- | --- | --- | --- | --- | --- |
| Strikeworth 6ft Multi | 190cm x 91cm. | 154cm x 77cm. | 338cm x 261cm. | 398cm x 321cm. | 444cm x 367cm. |
| Strikeworth 7ft Multi | 213cm x 114cm. | 182cm x 89cm. | 366cm x 273cm. | 426cm x 333cm. | 472cm x 379cm. |
| Trisport | 129cm x 84cm. | 97cm x 49cm. | 281cm x 233cm. | 341cm x 293cm. | 387cm x 339cm. |
| Pureline 7ft Multi Diner | 214cm x 107cm. | 177cm x 84cm. | 388cm x 281.2cm. | 448cm x 341.2cm. | 494cm x 387.2cm. |
| Tekscore 5ft Multi | 161cm x 83cm. | 144.5cm x 68cm. | 328.5cm x 252cm. | 388.5cm x 312cm. | 434.5cm x 358cm. |
How Much Space Do I Need to Store It?
When not in use, some larger tables will need to be left in place. But others also feature clever storage or folding designs, that allow you to move it out of the way and create space for whatever else happens in your games room.
The Tekscore Folding Leg Pool Table, for example, includes a table tennis top. But the table's legs fold into the table body, allowing table and top to be easily stored away.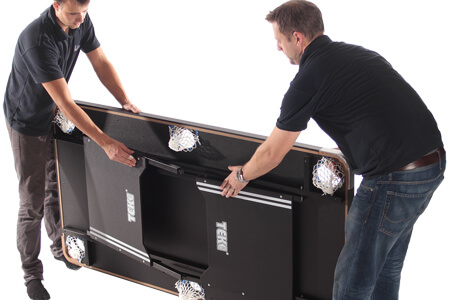 Folding the legs of the Tekscore Folding Pool & Tennis Table. (From £299.00) [ view in store ]
The 5ft Folding Multi Games Table addresses this differently, by folding the entire body vertically and allowing the table to be kept against a wall or similar. You should carefully check the listing of your chosen table to find out what the folded dimensions will be.

The Tekscore 5ft Multi changing from storage to play position. (From £359.00) [ view in store ]
Multi games tables should also be stored in indoor, dry spaces. Excessive damp, temperature changes or direct sunlight could cause the table to distort.
What Accessories Are Included?
Your table will come with all accessories that are suitable for the table. This means you won't need to do any extra shopping to play the games included.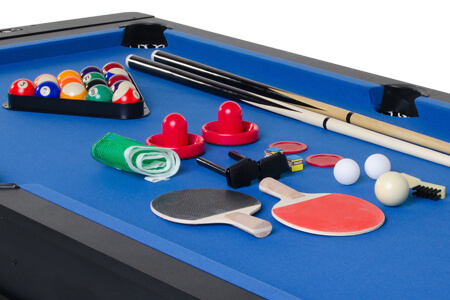 Accessories provided with the Strikeworth 6ft Multi Games table. (From £489.00) [ view in store ]
You might want to upgrade, though. Budding pool players might want to buy a better pool cue to really enhance their game. Or you might want to buy a set of snooker balls for your pool table, so you can play snooker too. Just make sure they're the same size as the pool balls you already have, so that they fit the pockets correctly.
Some tables will also feature storage compartments to keep all your accessories tidy when you're not using them. If not, you might want to invest in a cue rack or ball tray.
Are Multi Games Tables Suitable for Public & Commercial Spaces?
Most multi games tables are designed for relatively light use, for example in a family home. We have supplied them for use in office common rooms and similar spaces, but we'd advise against installation in busy public areas where heavy use by various people is expected.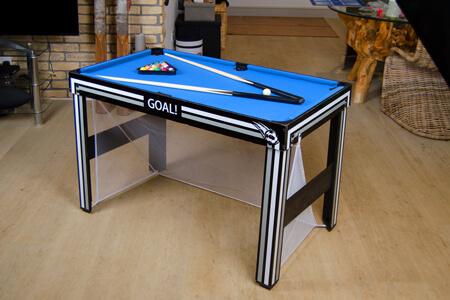 The Goal Multi Games table in a family home. (From £149.00) [ view in store ]
Delivery
Multi games tables are usually held in stock for fast dispatch. Check the product's listing for an accurate delivery estimate.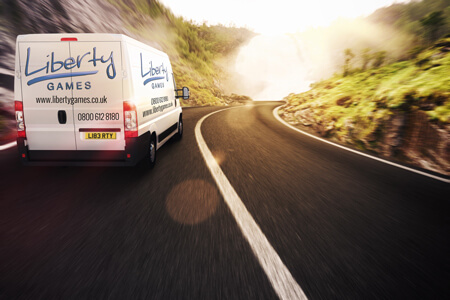 The Liberty Games van on a delivery run.
Assembly
Multi games tables usually come in a flat pack and require building. Instructions will be included, but we'd recommend having at least two people working on the build. The necessary tools are included with the table. Some tables are available with installation – this means the delivery team will unpack and build your table for you before leaving. Check the listing to see whether this is an option on your preferred table.
Now you can browse our range of Multi Games Tables and choose the ideal product for your home and family.
This article was written by Liberty Games staff member

Sales Manager at Liberty Games. Pool table specialist & pinball wiz. Film & cinema nerd, with a mental database of every episode of The Simpsons ever made.