Buying Advice

Commercial Equipment

(3)

>

Accessories

(2)

>

Air Hockey

(13)

>

Arcade Machines

(3)

>

Jukeboxes

(9)

>

Multi Games

(2)

>

Pinball

(4)

>

Pool Cues

(3)

>

Pool Tables

(18)

>

Shuffleboard

(3)

>

Snooker Tables

(7)

>

Table Football

(7)

>

Table Tennis

(2)

>
How Does Contactless Payment Work on a Pool Table or Games Table?
Eliminate the need for cash and coins in your venue. Get ready for a cashless society with our cutting-edge contactless payments systems for all your amusements equipment.
Our cash-free system allows for a variety of contactless payment types. Use contactless debit or credit cards at a tap, or use your mobile phone with its mobile payments app like Apple Pay, Google Pay or Samsung Pay. The system is compatible with almost any amusements machine that already has an electronic coin mechanism fitted. When a payment is made, the unit stores the money and returns your monthly total to your bank account, less a small fee.
You can also use this system with prepaid contactless cards for closed environments, for example in an office break room. You could even reward your best-performing employees with credits for extra games. Static and dynamic QR code payments and social wallets such as Alipay or WeChatPay are also supported.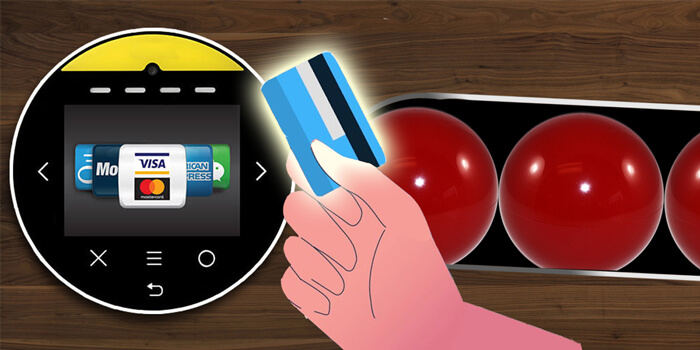 The contactless payment system on a pool table. (From £1395.00) [ view in store ]
Your unit can be remotely managed with its own dedicated software, allowing you to set prices, view sales, monitor data and respond to alerts in real time. You can do this from anywhere, so you don't need to be with the machine to maintain it. It communicates with the web via Wifi or Bluetooth, or even via Ethernet or 3G or 4G data networks.
The colour touchscreen can be used to display marketing messages and promotional campaigns. You can even program marketing campaigns like happy hours or discounts, encouraging repeated use of your table.
The unit itself is equipped with a functional touchscreen display allowing easy management. The front is made from reinforced Dragontrail glass and the entire unit is securely attached and designed to be resistant to vandalism.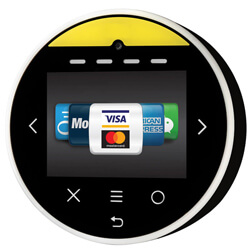 Your Options
We offer contactless payment systems in two ways:
1. Pre-Fitted Contactless System.
If you order a table with a contactless system fitted, our technicians will fit and test the system before delivery. Please note that this can extend advertised lead times slightly.
2. On-Site Contactless Installation.
Our engineers will visit your premises and fit your contactless system to your existing table.
Fees and Charges
Payments collected by the unit will be collected and returned to your account once a month, less a 2.5% commission. To operate a unit, a £10 monthly subscription is payable.
And that's it - there are no other hidden fees or charges!
Mains or Battery Power
Most commercial games tables, like air hockey tables and arcade machines, are connected to mains power for other operations already. But some, including pool tables and foosball tables, are not. For these tables we offer an option for battery power instead of mains. Please ensure you choose the correct version for your situation.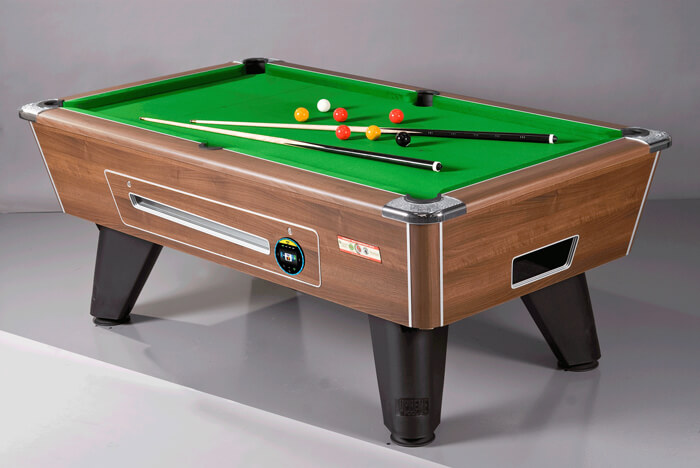 A Supreme Winner with a contactless payment system. (From £1445.00) [ view in store ]
Pool Table Ball Drawer
On a pool table, the table requires an existing electronic coin mech ball drawer. If you have a mechanical ball drawer that uses an Essex Straight Six coin slide or similar, you will need to upgrade the ball drawer to an electronic version. We offer a replacement ball drawer as an option alongside this service.
If you need more information on our contactless payments systems, contact us.