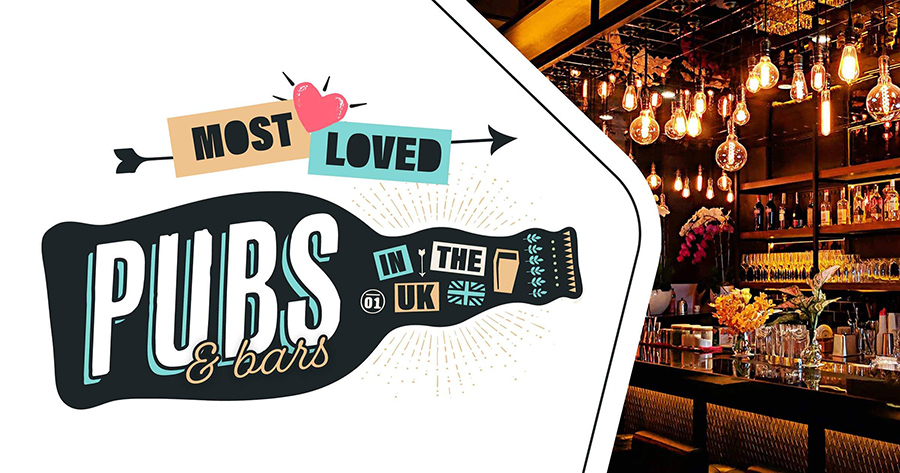 With pubs and bars back on the agenda and the sounds of summer playing on the nearest jukebox, Liberty Games wanted to shine a light on some of the best pubs and bars in the UK. We used TripAdvisor's number 1 rated pub or bar in every city and ranked them by the number of 5* reviews to see which topped the charts.
Top locations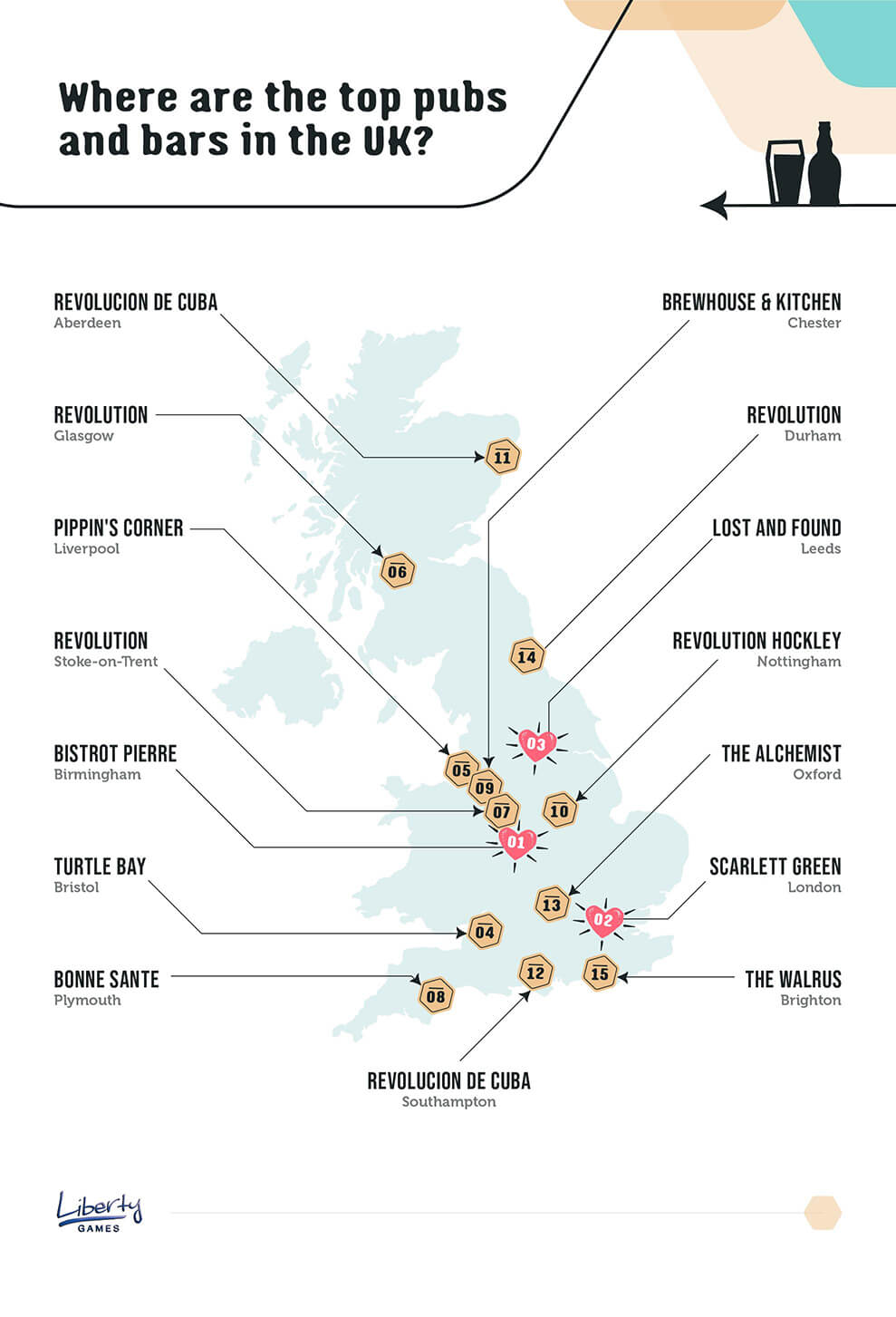 The top location in the country was Bistrot Pierre in central Birmingham. The restaurant and bar is situated on the canalside and is just a stone's throw from the Mailbox. The bar has French culture at its heart and celebrates all the cuisine right down to its extensive wine list and wide selection of spirits.
Soho's Scarlett Green comes in second place with its Aussie inspired venue with good vibes for extra measure. You can expect chic interiors with colourful artwork, live music, cocktails, craft beer and a full menu of Australian wine. Oh, not forgetting that the bar also hosts a lively bottomless brunch too.
In third place we see the avant-garde cocktail bar and restaurant, Lost and Found, located in Leeds. The Greek Street hotspot is centred around Victorian professor Virginia Stevenson who is described as a "forward thinking and free-spirited individual" which is reflected in the eccentric interiors. The drinks menu boasts a selection of unique cocktails which includes a "Mythical Garden Martini" and a "Tangled Teapot", exclusive to this particular venue.
Best of the rest
When it comes to the other top spots, there are a variety of options across the UK including traditional taverns like The Walrus in Brighton and Blackbird in Derry, all the way through to modern bars such as The Alchemist Oxford and Revolution Hockley in Nottingham.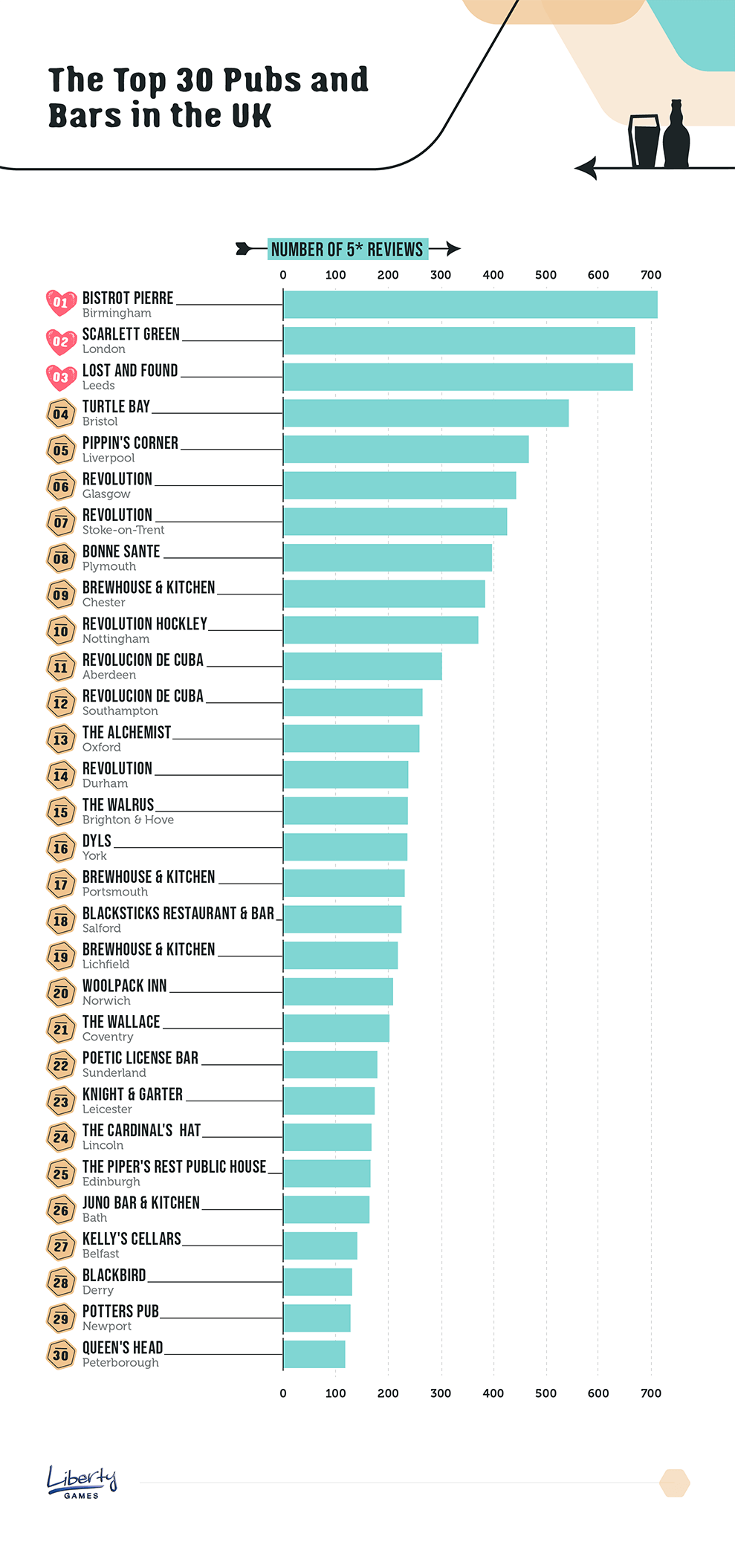 This list compiles the top 30 spots by their rank on TripAdvisor and the number of 5* reviews they have received which makes it clear that there are so many great options up and down the country. So whether you are up for dinner and drinks or fancy a game on the pool table with a pint and a packet of crisps, then you might be closer than you think to some of the top locations in the UK.
This post was written by:

Will works on the website's content, crafting copy, taking photos, and editing the videos that our customers use to become informed about our products. He also manages the listings and maintains regular contact with our suppliers.