Buying Advice

Snooker Tables

(7)

>

Accessories

(2)

>

Air Hockey

(12)

>

Arcade Machines

(2)

>

Commercial Equipment

(2)

>

Jukeboxes

(8)

>

Multi Games

(2)

>

Pinball

(3)

>

Pool Cues

(3)

>

Pool Tables

(17)

>

Shuffleboard

(3)

>

Table Football

(6)

>

Table Tennis

(2)

>
Snooker Table Buyer's Guide
If you're thinking about buying a snooker table for your home, read our guide and learn what to look for, what your options are and how to get the best out of your new table.
Our guide is divided into useful bitesize chunks. Quickly skip to the bit you need to read using the quick links below, or digest the whole guide at length.
Overview
Owning a snooker table is a dream for many people. Full size or commercial-standard slate bed snooker tables are large, imposing pieces of furniture, requiring many square metres of space.
Snooker tables have historically been found in dedicated snooker clubs and sports centres. But today, they are an increasingly popular installation in private homes, whether full-size slate bed tables with tournament-standard play or small, folding MDF tables intended for the whole family.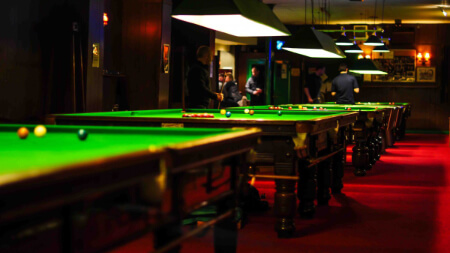 Full-size snooker tables in a snooker hall.
Popular Sizes
There are three popular sizes for slate bed snooker tables. The first is the full-size table. This measures around 12ft in total length. If that's a little too large, then many tables also come in the 10ft size. At the more compact end of the scale are the 9ft tables, often called 3/4-size tables.
Whilst certainly smaller than a full-size table, these 3/4-size models are still around the same size as a 9ft American pool table, so you'll need to plan your installation carefully. Calculate your room size to see which is the best fit for you.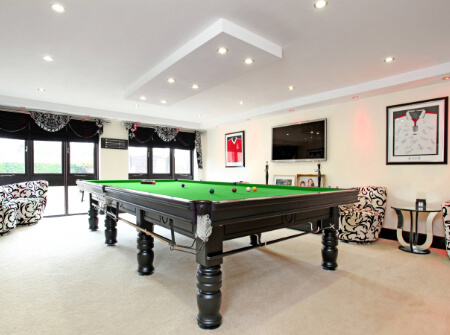 A full-size 12ft SAM Tagora snooker table. (From £14600.00) [ view in store ]
Smaller Snooker Tables
But not everyone has this much space, and there are smaller tables available, usually made with lightweight wood composite beds and often folding storage systems. In most important ways, other than the equipment used and the markings on the playfield, these tend to be very similar to MDF bed pool tables. We won't be covering these tables in this Guide, so see our pool table buying guide for guidance, or browse our family snooker table section here.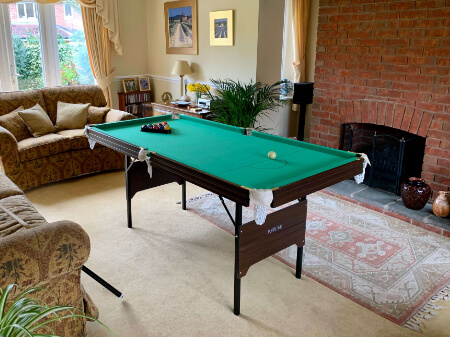 The Pureline 6ft folding snooker table. (From £299.00) [ view in store ]
The Slate
Snooker tables, like larger pool tables, have a slate bed. This is made from sections of real rock slate, which are quarried, machined and honed until they're perfectly flat. The sections – which can number up to five on a full-size snooker table – are then carefully mounted into the table frame during installation.
After being mounted into the table body, they are carefully levelled and joined together. Once the slate is assembled, the table will be very difficult to move, so ensure that your installation is in the right place before the team gets started.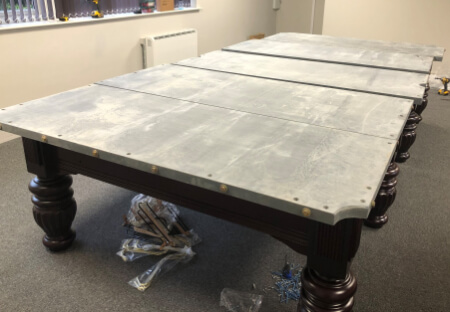 The unassembled slate & frame of a Dynamic Prince snooker table. (From £6940.00) [ view in store ]
Cloth
The cloth is stretched taut over the slate and then fastened into place. The best snooker cloths are British-made and feature a directional weave. So if you were to stroke the cloth with your hand, in one direction the nap would feel smooth, and in the other direction it would feel rough. This is similar to the woollen cloths found on British pool tables, and completely different from American tables' nylon cloths.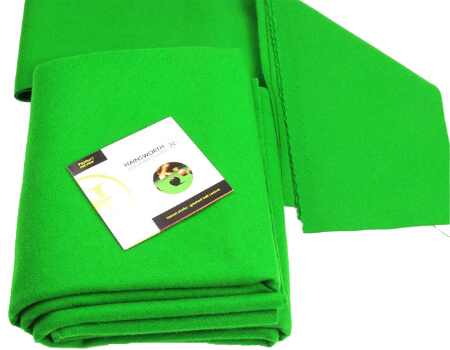 A roll of Hainsworth Precision green snooker cloth. (From £185.00) [ view in store ]
Unlike pool cloths, which come in all the colours of the rainbow, snooker cloths are usually green in colour. This harks back to the origins of billiard games in the 13th century, when they were invented as a parlour pursuit for players who couldn't play their usual lawn games due to poor weather. It's widely believed that King Louis XI owned the first indoor billiards table, and the green cloth was intended to simulate the effect of playing on grass.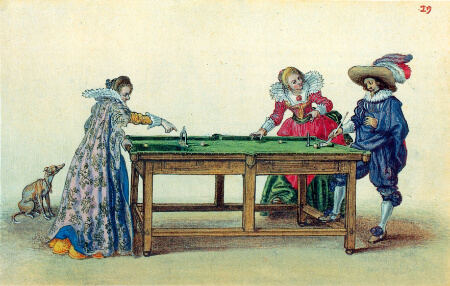 A 17th century game of snooker, played with paddles instead of cues.
Cloth Markings
The markings on a snooker table cloth are very important. They dictate the starting and re-spotting positions of all the balls on the playfield, ensuring that the game begins correctly every time. But how are snooker tables marked?
Snooker cloth has to be carefully marked with spots, a D and a baulk line. The baulk line is a straight line across the table, located one-fifth of the way down the playfield. The D is marked from this, and is a semicircle that is 1/3 the width of the full playfield. If the semicircle was a full circle, the baulk line would neatly bisect the circle into two halves.
Further down, the blue spot should be placed exactly halfway between the centre pockets. This is the precise centre of the whole playfield. Then, if you were to draw an X from the centre pockets to the end pockets, the pink spot would go on the centre of the 'X'. Finally, the black spot, also on the centreline, is placed 1/11 of the length of the playfield from the back cushion.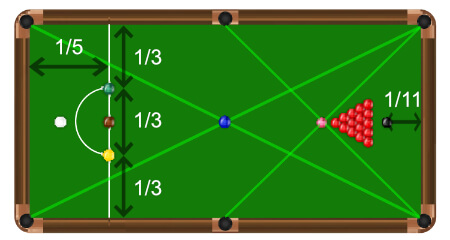 How to correctly mark a snooker table.
Your table should be accurately marked for you when you buy it, but if you need to re-mark it or replace the cloth, use this guide to ensure you have marked it properly. We stock a range of spots, measuring devices and marker pens suitable for re-marking your table.
Cushions
Snooker table cushions are made of a special vulcanised rubber, often formed from a variety of different types of rubber blended to give the best performance. Good quality cushions are covered with the same cloth that is used on the playfield, and are essential for ensuring consistent rebound performance all around the table.
Space
Snooker tables require some of the biggest footprints of any games table. Full size tables can be just under four metres in length, and then you'll need another clear 1.5 metres all around the table to allow players to move and use full-size 57-inch cues.
So if you're installing a 12ft table, you'll realistically need a room with 468cm by 646cm of free space.
Read about the space requirements of other sizes, and learn how to measure your own games room in our guide, What Size Room Will I Need For My Snooker Table?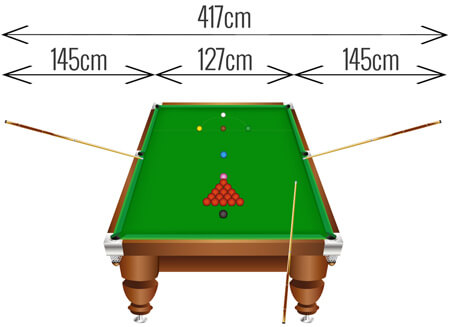 Measuring the room width required for a typical 9ft table with a playfield width of 127cm.
Accessories
A complete set of accessories is usually supplied with your table. This will include a pair of full-length 57-inch cues, and usually a rest stick; a long stick with a metal or plastic rest, that enables you to reach right across the cloth even for the longest shots.
You'll also get a complete set of balls. That's 15 red balls, and one each of yellow, green, brown, blue, pink and black, and a white cue ball. You'll get a triangle and some cue chalk, too.
If you need anything more, or you want to upgrade, browse our range of snooker cues, balls and other accessories here.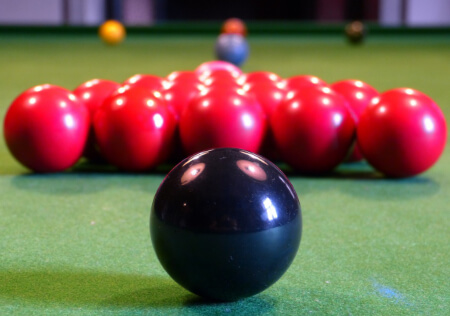 A set of snooker balls set up ready for a game.
Delivery & Installation
When your table is ready to be delivered (and this depends on whether the table needs to be especially built or whether it's available 'off the shelf') you'll be contacted by the technicians to arrange a suitable day. You should ensure that the route through your property is clear and trip-free. The team will then assemble your table.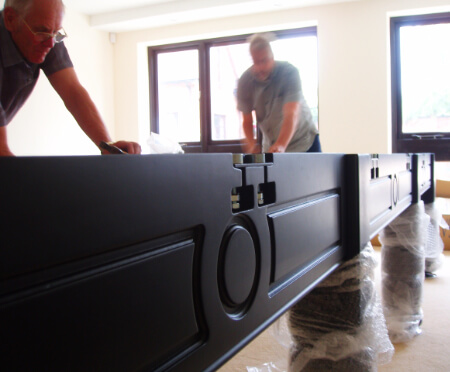 A SAM Tagora snooker table being assembled. (From £14600.00) [ view in store ]
Before they start to fit the slates, you should check once more that the table is in precisely the right place, including checking your cue clearance from all angles, checking that doors can swing open clearly etc. Once assembled it will be almost impossible to move.
Now you can browse all of our snooker tables and accessories, find your dream table and buy with confidence.
This article was written by Liberty Games staff member

Sales Manager at Liberty Games. Pool table specialist & pinball wiz. Film & cinema nerd, with a mental database of every episode of The Simpsons ever made.