Buying Advice

Snooker Tables

(7)

>

Accessories

(2)

>

Air Hockey

(12)

>

Arcade Machines

(2)

>

Commercial Equipment

(2)

>

Jukeboxes

(8)

>

Multi Games

(2)

>

Pinball

(3)

>

Pool Cues

(3)

>

Pool Tables

(17)

>

Shuffleboard

(3)

>

Table Football

(6)

>

Table Tennis

(2)

>
What Size Room Will I Need For My Snooker Table?
A snooker table is a physically large piece of games room equipment. Only the most spacious games rooms will have room for one. Check that you have enough space using our guide below.
Different Sizes of Snooker Table
True snooker tables come in three common sizes. The full-size, tournament-spec table is 12ft in length, and just over 6ft wide. For those without the space for a full-size table, there's the 9ft option, often called a 3/4-size table. Somewhere in between is the other popular size, which is 10ft in length.
For tables smaller than 9ft, please see our Pool Table Room Size Guide for a guide to measuring your room size.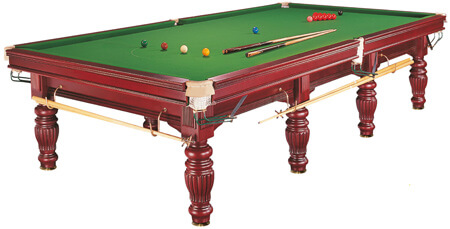 The Dynamic Prince snooker table, available in 9ft, 10ft & 12ft. (From £6940.00) [ view in store ]
How to Calculate Your Space
You'll calculate the space you need by measuring the playfield (not the whole table) from the inside of each cushion, in both length and width, and then adding double the length of your cue. This is to allow players to use a cue from any angle on the table, without being limited by walls or furniture.
So if you have a 9ft table with a playfield 127cm wide, and a 57-inch cue which is 145cm in length, you'll add 127cm + 145cm + 145cm = 417cm. This is the minimum room width you'll need to be able to use a full-size cue. The same table, with a playfield length of 254cm, would require 544cm of space lengthways.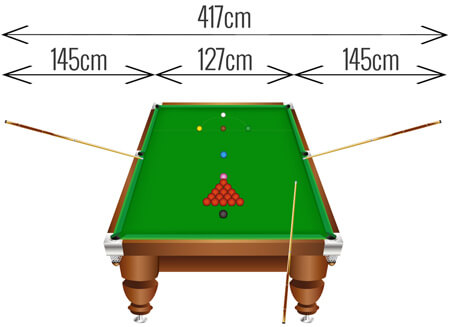 All of our measurements are based on commonly-available snooker tables. These may differ from table to table, so you should obtain the precise dimensions of the table you're looking at before doing your calculations.
Minimum Room Dims with 57-inch Cue
| Table Size | Playfield Width | Playfield Length | Min Room Width | Min Room Length |
| --- | --- | --- | --- | --- |
| 9ft | 127cm | 254cm | 417cm | 544cm |
| 10ft | 147cm | 294cm | 437cm | 584cm |
| 12ft | 178cm | 356cm | 468cm | 646cm |
Delivery Access
Of course, it isn't just your games room that you'll need to check for space. Snooker tables are large, and are assembled in your home by technicians. You need to ensure that the access routes through your home or premises are wide enough for the components to be carried through safely.
If in doubt, contact our sales staff, who can work with you to check access and advise.
Now you can browse our range of snooker tables of all sizes, and choose the perfect one to fit your games room.
This article was written by Liberty Games staff member

Sales Manager at Liberty Games. Pool table specialist & pinball wiz. Film & cinema nerd, with a mental database of every episode of The Simpsons ever made.