Buying Advice

Table Football

(6)

>

Accessories

(2)

>

Air Hockey

(12)

>

Arcade Machines

(2)

>

Commercial Equipment

(2)

>

Jukeboxes

(8)

>

Multi Games

(2)

>

Pinball

(3)

>

Pool Cues

(3)

>

Pool Tables

(17)

>

Shuffleboard

(3)

>

Snooker Tables

(7)

>

Table Tennis

(2)

>
What Is a Full Size Football Table?
Overview
A football table can come in many sizes, usually depending on the people it's intended for, and the amount and type of use it will get. Family homes and children can use smaller tables, whilst tournament players will want a regulation-sized table that is approved by the sport's governing body.
Read about the different sizes, and find out what a true regulation tournament table is.
What Sizes are Available?
For youngsters and families, or those with limited space, fun tables can go right down to four feet in length, or even as small as 3ft. If you're limited for space or are buying for very young players, we have a range of mini football tables available to buy.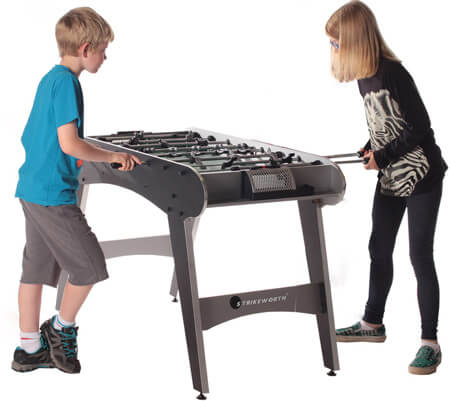 Children playing on a Defender football table. (From £99.99) [ view in store ]
At the other end of the scale, there are special tables built for communal games that can accommodate up to six people at once, and are nearly 10ft in length. These are usually used as promotional tables for special events, or in the common rooms of larger businesses.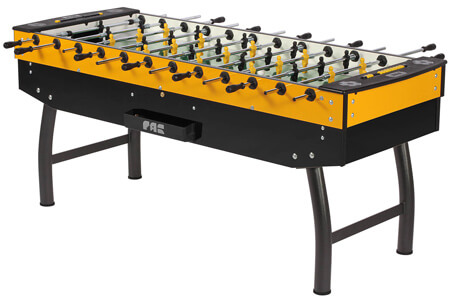 The FAS Party long football table. (From £999.00) [ view in store ]
Regulation Size
But real football tables, as used in tournaments, bars and homes, measure around 4ft 6in to 5ft in length. This is large enough to get a really good game going, with enough space for you to show off your ball control and volley skills, and to snipe long shots into your opponent's goal.
To be eligible for approved tournaments, they must adhere to ITSF requirements of 56in (L) x 30in (W) x 36in (H). If you are looking for a real tournament table, you can browse our ITSF-approved foosball tables here.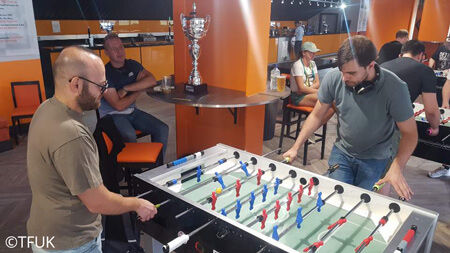 British foosball tournament played on a Garlando Master Champion. (From £949.00) [ view in store ]
Special Tables
Some tables are modified for users with special access requirements. For example, the Roberto Sport Revolution Competition table has a variant with a redesigned leg style, intended for use by competitors who use wheelchairs.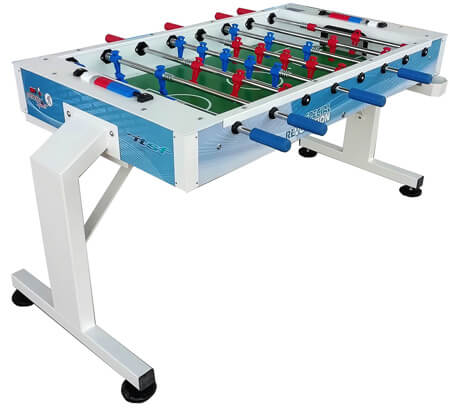 A Roberto Sport Revolution table designed for wheelchair users. (From £1649.00) [ view in store ]
Now that you know more about the different sizes available, browse our full range of football tables and find the right one for you.
This article was written by Liberty Games staff member

Sales Manager at Liberty Games. Pool table specialist & pinball wiz. Film & cinema nerd, with a mental database of every episode of The Simpsons ever made.