Buying Advice

Table Football

(6)

>

Accessories

(2)

>

Air Hockey

(12)

>

Arcade Machines

(2)

>

Commercial Equipment

(2)

>

Jukeboxes

(8)

>

Multi Games

(2)

>

Pinball

(3)

>

Pool Cues

(3)

>

Pool Tables

(17)

>

Shuffleboard

(3)

>

Snooker Tables

(7)

>

Table Tennis

(2)

>
Should I Choose Solid Rods or Telescopic Rods?
When browsing our selection of foosball tables, you'll notice that the rods are described as either 'solid' or 'telescopic'.
Which rod type you prefer could dictate the table you buy, so read on to learn about the difference, or jump straight to a section using the quick links below.
Solid Rods
Solid rods are exactly that. They are solid rods, made in one piece and with the player figures mounted to them. At one end they will have a grip or handle, and at the other end the rod pokes through the side of the table.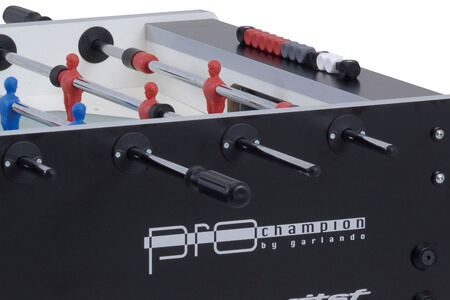 The solid rods on a Garlando Pro Champion football table. (From £649.00) [ view in store ]
Telescopic Rods
Telescopic rods are more complex. The rod is made of two parts; the core and the sleeve. The sleeve is fitted with a handle and it's this thicker part of the rod that the player controls. The sleeve slides over the core, so the rest of the rod retracts into itself instead of poking through the table.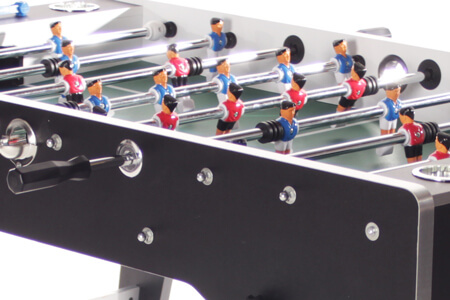 The telescopic rods on a Tekscore Full Size football table. (From £349.00) [ view in store ]
Safety
Telescopic rods were originally developed as a safety feature, as foosball tables became more common in homes and as a game for children. The benefit is that the far end of the rod, away from the player, retracts into the table instead of poking through it. Whilst a game is being played on a table with solid rods, this is not a major issue, but the problem arises when the table is not in use.
The rods of a foosball table tend to sit at around the same level as children's eyes, and when poking out of the table can pose a safety risk. Telescopic rods eliminate that risk entirely.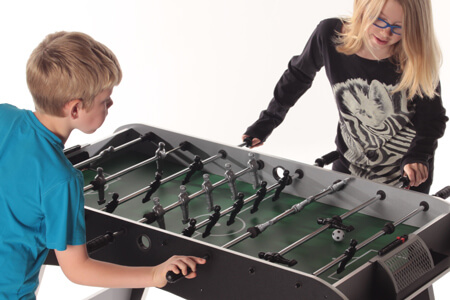 Kids playing on a Strikeworth Defender football table. (From £99.99) [ view in store ]
Performance
Experienced foosball players will tell you that solid rods provide a higher level of control. And they are more durable (being basically a solid, tubular piece of metal), so will probably last longer. Tournament tables are more likely to have solid rods.
Browse our selection of foosball tables and accessories here, and use the filters to show only those with telescopic or solid rods.
This article was written by Liberty Games staff member

Sales Executive at Liberty Games. Specialises in foosball tables and table tennis equipment. He's a keen footballer and fitness enthusiast, and recently completed the Brighton Marathon.