Buying Advice

Table Football

(6)

>

Accessories

(2)

>

Air Hockey

(12)

>

Arcade Machines

(2)

>

Commercial Equipment

(2)

>

Jukeboxes

(8)

>

Multi Games

(2)

>

Pinball

(3)

>

Pool Cues

(3)

>

Pool Tables

(17)

>

Shuffleboard

(3)

>

Snooker Tables

(7)

>

Table Tennis

(2)

>
Why Do Some Football Tables Have Glass Tops?
If you've been browsing our huge range of table football tables, you may have noticed that although most tables are open-topped, some actually have sealed playfields under a glass top.
So why is this a common feature – and is it a feature you might need?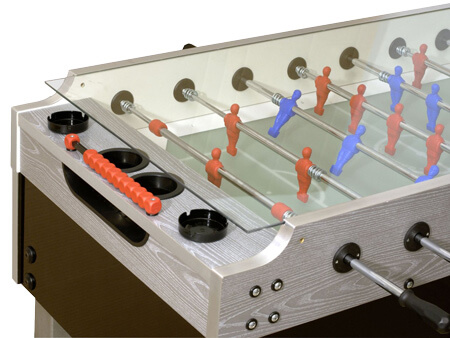 The glass top being removed from the Garlando Class football table. (From £699.00) [ view in store ]
Why a Glass Top?
Open-topped tables are built for homes, tournaments and other private locations, where the table owner knows who'll be playing on them and when. But, as anyone who's installed an open-topped table in a busy bar will tell you, they are vulnerable. Balls can easily go missing, either flicked out of the table and lost, or actually stolen. And customers can keep replaying games without paying for game credits.
Glass-topped football tables keep the balls and playfield out of the reach of players. Balls are usually held in a chute on one side of the table, which is activated when a coin is inserted. Put in your coin, and you'll be able to slide the balls up to the playfield entry port. For one credit, you'll get access to enough balls to decide a game with a certain number of goals.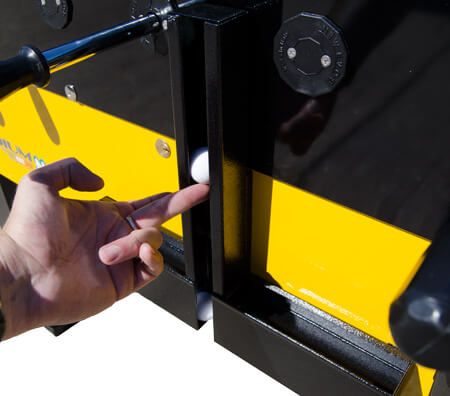 The ball loading chute on the Stadium Line VS commercial football table. (From £1119.00) [ view in store ]
Are They Only Found on Coin-Op Tables?
A glass top gives you the most secure way of operating a coin-op table, but the feature is also built into some freeplay tables too. These tables, like the Garlando Class shown above, have the chute and glass top, but no coin mechanism. This is ideal for locations where you want to keep your foosballs secure and safe, but you don't want to charge for games, such as youth clubs or common rooms.
There are even miniature glass-topped tables like the Roberto Sport Roby Colour, which lack coin mechanisms and are ideal for schools, playgroups and other places, where small hands and fingers are best kept away from moving parts.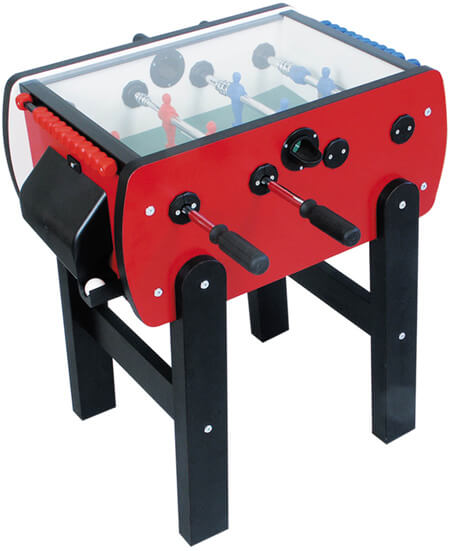 The Roby Sport mini foosball table with glass top option. (From £289.00) [ view in store ]
Are There Any Other Benefits?
Glass tops have other benefits. Pop a football table cover on top to protect the glass and the table becomes a useful tabletop, where people can put drinks or belongings. Whilst the table is in use, the glass panel stops drinks, crumbs or even cigarette ash from being dropped into your table, damaging the internals. And a glass top reduces game noise, making your table quieter to play.
If you think you need a glass top in your venue, browse our range of glass-topped commercial football tables here.
This article was written by Liberty Games staff member

Sales Manager at Liberty Games. Pool table specialist & pinball wiz. Film & cinema nerd, with a mental database of every episode of The Simpsons ever made.