Buying Advice

Table Football

(6)

>

Accessories

(2)

>

Air Hockey

(12)

>

Arcade Machines

(2)

>

Commercial Equipment

(2)

>

Jukeboxes

(8)

>

Multi Games

(2)

>

Pinball

(3)

>

Pool Cues

(3)

>

Pool Tables

(17)

>

Shuffleboard

(3)

>

Snooker Tables

(7)

>

Table Tennis

(2)

>
Outdoor Football Table Buying Guide
Buying a foosball table for outdoors? There are plenty to choose from. Learn what features to look for and what might suit you best in our guide.
Jump to a specific piece of information using these quick links, or digest the whole guide. It's up to you.
Overview
Foosball, also known as table football, is a game that can be played anywhere with the right table. Most foosball tables are made for indoor use, and they come in all shapes, sizes and colours. You can see our full range of football tables here.
But not all foosball tables can live outside all year round. Tables built without weatherproofing will quickly fade, rot or rust, as rain, wind and direct sun affect the materials. However today there's a large variety of football tables built for year-round outdoor use, with corrosion-resistant cabinets, anti-rust legs and a tough, durable finish.
Outdoor football tables are popular purchases for home patios, decking areas and gardens, whilst in commercial spaces outdoor tables make great entertainment at holiday parks, schools, sports centres and even bars.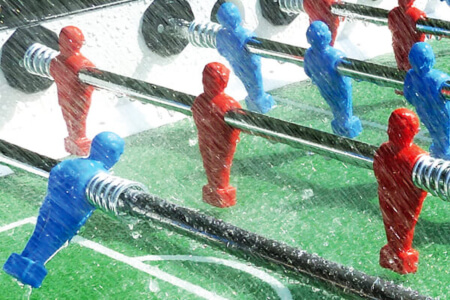 This guide is specifically written for those considering an outdoor table. For general advice on all aspects of buying a football table, read our Football Table Buyer's Guide here.
Materials
There are three main weatherproof or weather-resistant materials found on foosball tables. You may find tables that are made exclusively from one of these materials, or a mixture of two or three.
Marine Ply
Marine ply is a type of compressed composite board. It differs from other composite boards due to its treatment with a waterproof lacquer or coating. This type of wood is used on boat hulls and other floating items, so you can be sure it'll last for many years.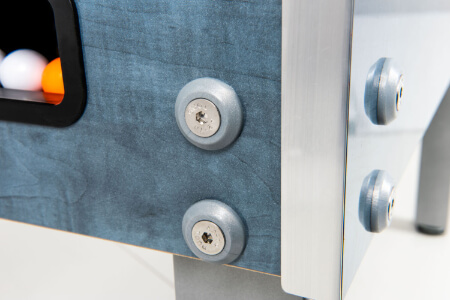 The Garlando G-500WP is made from marine ply & stainless steel fittings. (From £749.00) [ view in store ]
Thermoplastic Resin
This tough, rugged plastic-based substance is entirely waterproof and will never rot. It's also strong and durable, making it ideal for garden or outdoor use.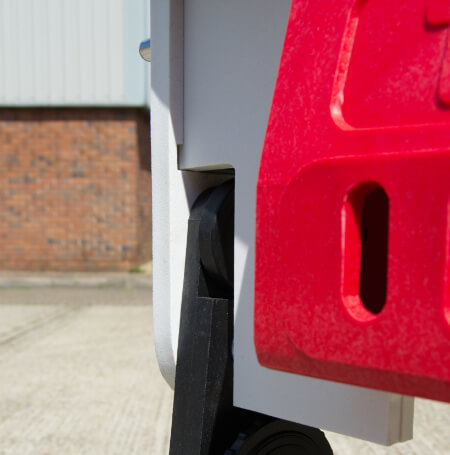 The Storm Trolley is made from materials including tough thermoplastic resin. (From £795.00) [ view in store ]
Treated Metal
Some types of metal are naturally corrosion-resistant, for example aluminium. Other types, like steel, can be treated or made in such a way as to limit corrosion. It's heavy, but it's stronger than the other options. So you might find outdoor tables that have marine ply or resin cabinets, but with weatherproofed metal legs for strength. Non-load bearing parts, like player rods or coin mechanisms, can be heavily chrome-plated to resist rust.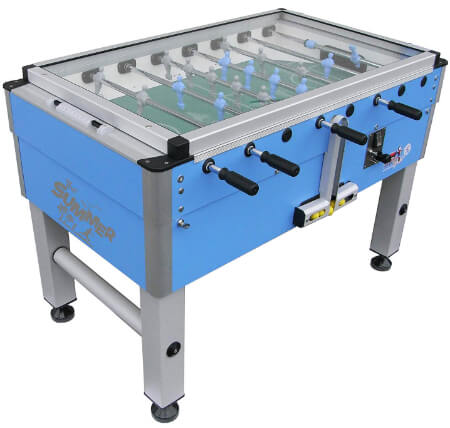 The Roberto Sport Summer football table uses many treated metal components, such as the legs. (From £1599.00) [ view in store ]
Components
Outdoor tables often have special components designed to make them resistant to the effects of weather. For example, the Storm range of tables have Evo rod sliders, which avoid the usual roller bearings in favour of special low-friction parts. This avoids metal roller bearings rusting inside and grinding or getting jammed.
The Storm tables also feature double-chrome plating on the player rods, making them even more resistant to damage, corrosion and weathering.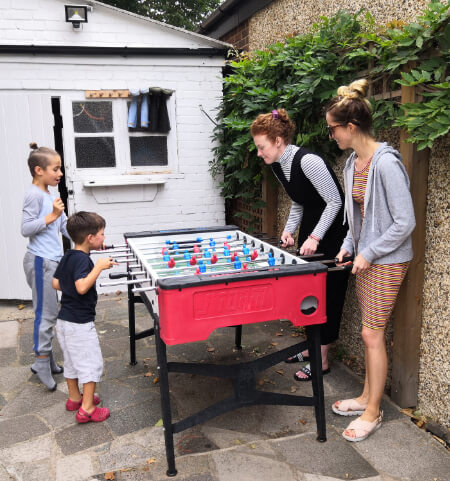 A family playing on a Storm F-1 outdoor football table. (From £749.00) [ view in store ]
Location
Outdoor football tables are designed to be weather-resistant or weatherproof. This means they can be left outside in all weathers. However, they are not invincible, and care should still be taken to maintain and protect them as much as possible.
Place your outdoor football table on steady ground. Your lawn might be firm and stable midsummer, but when waterlogged in the winter, the earth may be softer, and your table could sink and fall. It's best to place them on a decking or patio, where the level can be easily adjusted.
There are a handful of folding outdoor football tables around. These are the best of both worlds - they can stay outside all year round, under a cover. Or they can be folded up and stored away somewhere convenient.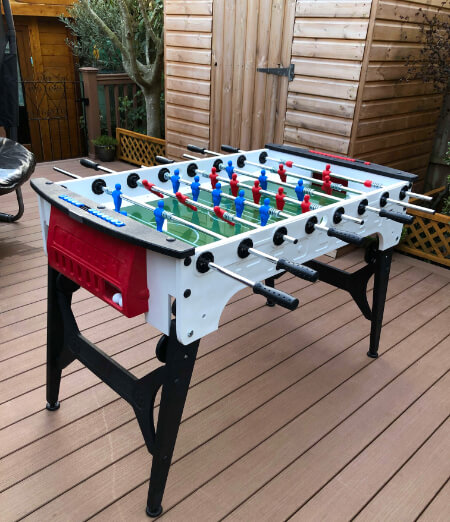 A Storm Trolley football table on a firm, level garden decking. (From £795.00) [ view in store ]
Covers
Use a heavy-duty outdoor table cover when the table is not in use. This will keep the worst of the weather off. Covers should be pulled tight around the table body and legs, and tied down securely. This should prevent the cover being blown off entirely, or inflating and acting as a parachute, pulling the table over.
Some tables are provided with covers included, but others aren't. Check the listing to see if a cover is included with yours, and if not, browse our selection of football table covers here.
Coin Mechanisms
Outdoor tables are a great addition to commercial outdoor spaces, like holiday parks, campsites and bars. Some outdoor foosball tables are available with a coin mech, so that you can charge visitors to play on the table.
The mechanical coin mechs found in most outdoor tables are durable and need no electrical current or batteries to operate, making them ideal for locations far away from power points, and where water ingress could be a problem.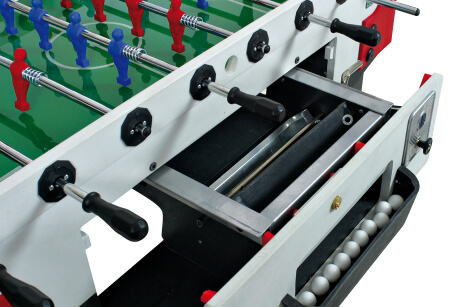 The coin mech & ball drawer on a Storm F3 outdoor football table. (From £1159.00) [ view in store ]
Maintenance
Your outdoor table should last for many years, but a little maintenance here and there will extend its life. A big part of this is lubricating the rods for a smooth action. Using a product such as Slidy Spray, you should do this whenever the rod movement feels rough. We'd also recommend doing it before and after winter storage, to help prevent corrosion.
Keep the playfield clear of dust, leaves and other objects. These can blow into the ball chutes and cause problems. Again, a heavy-duty cover will keep your playfield protected.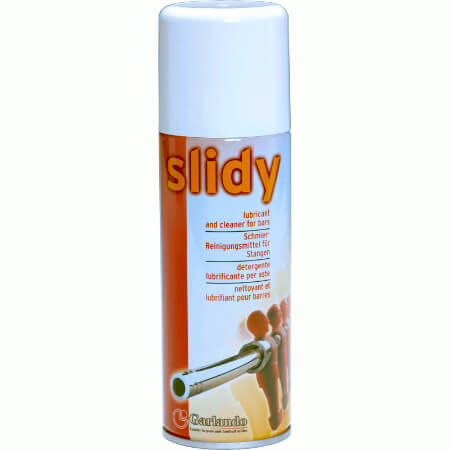 A can of Slidy Spray foosball rod lubricant. (From £22.99) [ view in store ]
Assembly
Like indoor football tables, most outdoor tables come as a flat pack item. You'll usually need to spend a little time building it, following the instructions that will be included. You may need some basic tools.
Now it's time to browse our collection of outdoor football tables, each designed for prolonged outdoor use and storage.
This article was written by Liberty Games staff member

Sales Manager at Liberty Games. Pool table specialist & pinball wiz. Film & cinema nerd, with a mental database of every episode of The Simpsons ever made.