Buying Advice

Table Football

(6)

>

Accessories

(2)

>

Air Hockey

(12)

>

Arcade Machines

(2)

>

Commercial Equipment

(2)

>

Jukeboxes

(8)

>

Multi Games

(2)

>

Pinball

(3)

>

Pool Cues

(3)

>

Pool Tables

(17)

>

Shuffleboard

(3)

>

Snooker Tables

(7)

>

Table Tennis

(2)

>
Football Table Buying Guide
Buying a football table? We can help you to select the best one to suit your needs. You'll need to ensure your table fits your room, plays like a dream and can withstand anything, whether in your front room, your office break room or in your busy bar.
Read our tips on choosing tables, room sizing and the breakdown of all the features you might need on your table. Use the quick links below to jump to a section you're interested in, or read it all and become a foosball expert.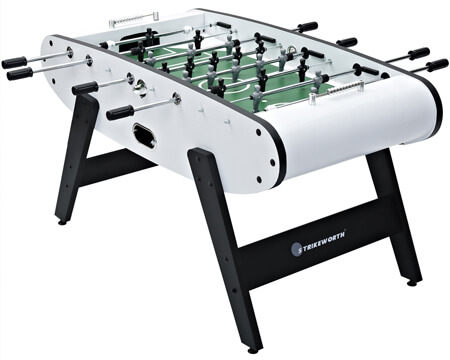 The Aurora White football table (From £399.00) [ view in store ]
Choose Table Type
The first thing you need to do is identify where your table will be used, by whom, and how often. A communal table in a youth club or bar will need to be much tougher than a fun table designed for the family home.
If it's going into a public area, you also need to decide whether to have a coin-operated or even contactless table, so you can charge your customers for games and bring in an income. Coin-op or contactless tables tend to have glass tops, in order to keep the balls stored for the next credit (and to prevent them being pinched!).
If you're buying for a public area where you're not charging for games (maybe you're installing a football table in your office's breakout room, for example), then you don't need the coin mech or glass top. But the table should still be built to the same tough standards as its coin-op counterparts. Many of our commercial football tables are suitable for offices, and can be supplied either without the coin mech or set to freeplay.
Typical Table Sizes
Most football tables are based around the recognised official tournament dimensions, as dictated by the ITSF body that governs the sport, of approx 142cm in length, 76 in width (table only - not including the rods) and with 15cm between each rod.
ITSF-approved tables usually have a playfield measuring 120cm x 70.5cm, like the Garlando Pro Champion. Most full-size tables will be based around these dimensions. Fun tables made for the home, like the Strikeworth Free Kick, are usually smaller than tournament-spec tables. Check the listings for specific model dimensions.
There is also a variety of miniature and tabletop foosball tables available, starting at just 3ft in length. These are mainly aimed at children - and for use as desktop office games.
Room Size
Now you need to make sure you have enough room for your chosen table. You should take the full width measurement of the table, including rods at their full extension - this can add 30-45cm depending on the model. Then add a metre to either side to give enough room for two people to operate the handles. At the goal ends, you need less room - but you still need to be able to get around there to retrieve balls.
A rough estimate, based on a 142cm x 76cm table, would look like this: 76cm (table width) + 90cm (extended rods) = 166cm total width. Then add a clear metre on either side to give players room to use the rods, so that's 366cm of room width needed. In terms of length, you'll need at least 50cm at either end to walk around the table and access ball retrieval. So 142cm + 50cm + 50cm = 242cm room length needed.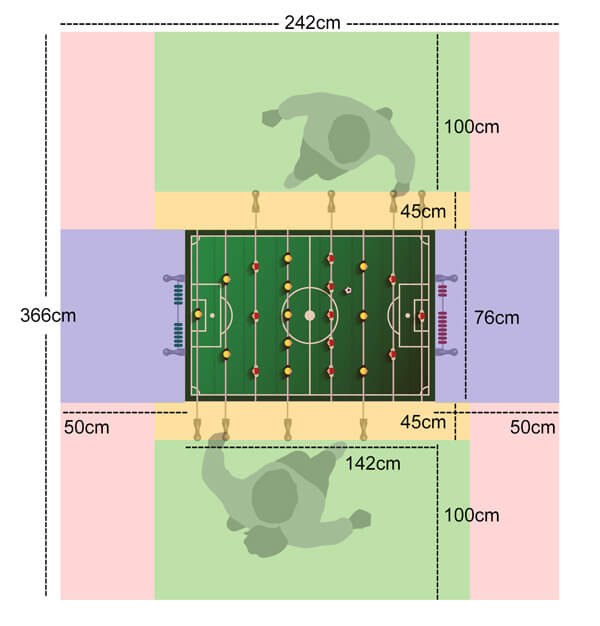 Other Things To Consider
Now that you know what size table you can fit in your space, there are lots of other aspects to consider including build material, stability, player formation and more.
And, of course, your budget.
Leg Stability
Football tables take a lot of abuse. Boisterous players can make the table move around or wobble. For this reason you need to look at a table that has strong legs with a wide spread, and a low centre of gravity.
Tables with hollow legs can be weaker. Solid wood legs are fine for home and casual use, but for tournament tables or those installed in public areas, you would be better off with metal legs.
Some tables have folding legs - a great feature if you want to reclaim space when the table is not in use. Folding football tables can be just as strong as fixed-leg models, but you should check. A folding table should have a good locking system to stop the legs moving.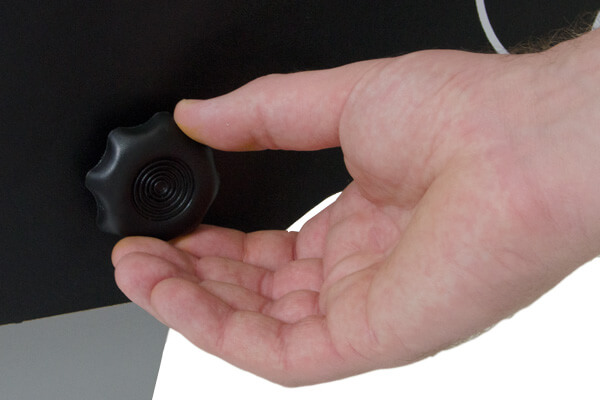 The leg lock on a Free Kick folding football table (From £129.00) [ view in store ]
Rods & Players
Football table rods come in two types - solid or telescopic. Solid rods are a single tube of metal. This means that they protrude through the table on the other side. Benefits of solid rods include a better feel for the game, but drawbacks include the safey considerations (the rod ends can coincide with the eye level of younger children).
Telescopic rods are made in two parts - a thin inner rod, and a larger outer tube. The outer tube slides over the inner rod, so that instead of poking out of the table, they retract into themselves, leaving only the handles protruding. It's a safer, neater way of doing the job.

Telescopic (left) and solid (right) football table player rods
Rod diameter (or thickness) is also important. Smaller tables, designed for casual play or for children, might have smaller diameter rods. High-spec tournament or commercial tables have thicker rods, which are more durable and provide more consistent feedback.
The player figures are usually made in a tough plastic, or even metal on some high-end tables. They should be solid, not hollow, for durability. And you should consider the foot shape - wedge or square-shaped feet tend to be used most commonly.
Body Structure
The main body of the table should also be strong enough for the purpose you're buying it for. A family table built in a quality wood or MDF is fine for casual use at home, but won't withstand the same abuse that a metal, plastic or reinforced wood table designed for a public space can take.
Check what features are built into the table. Most tables have a ball play port, where the ball is inserted to start a game, often on both sides. Some have a ball return system that returns the ball to the correct player - others have a system that returns the ball to one area in the centre, ready for restarting.
Playfield Surface
On professional tables, you'll most commonly find play surfaces of glass. This can be a smooth glass or a sandblasted glass, the latter giving improved ball control.
On consumer tables, expect play surfaces of vinyl-covered MDF, wood or plastic.
You may find raised corners and pitch edges on some tables. These prevent the ball getting stuck in a corner and keep the game moving - a great feature to have.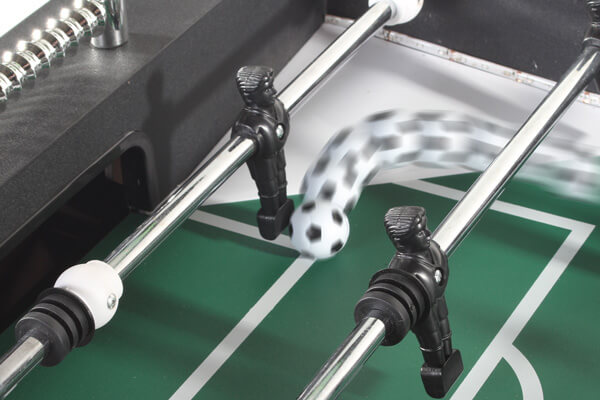 The raised corner on an Aurora table redirecting the ball from the corner (From £399.00) [ view in store ]
Player Formation & Feet
In the UK, and on most tournament tables worldwide, the standard player formation is 1-2-5-3. You'll find this on almost all standard tables, but there are a few tables that have extra players on the pitch or slightly different formation arrangements.
Player figures also often have different 'feet'. The vast majority have a single 'foot' in a block or wedge shape, but some decorative tables might have two feet per player. This is done mainly for looks, and won't help the standard of play at all.
Delivery & Assembly
Depending on which football table you buy, it will arrive with you soon after your order is placed. In most cases, the courier will contact you to arrange a delivery slot.
Most home tables come as flat pack items, which may require some assembly. More professional tables come with the cabinet already built, often leaving you simply to attach the rods and legs. A few folding tables, like the Storm Trolley below, come with the legs folded into the body so all you have to do is fit the rods and players, and unfold the table. Instructions are always included, and on some tables an assembly service can be offered. Check the listing to see whether this applies to your favourite table.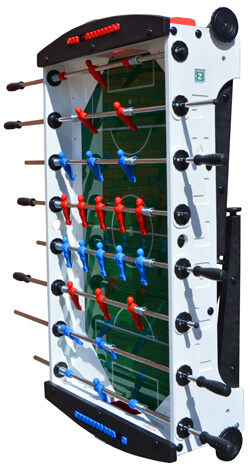 Storm Trolley folding football table, which comes with legs already attached. (From £779.00) [ view in store ]
Summary (Tl;Dr)
You should first decide on the purpose of your table, and whether you need a well-built, tough commercial table (maybe with coin-op or contactless) for a public venue, or whether you need something less robust for your family home.
Then measure up your room and ensure you can fit your chosen table in there. Ensure you get the correct leg design, rod style, cabinet material and playfield material to suit your requirements.
Ready to Buy?
Now you should be ready to browse our vast range of foosball tables, knowing exactly what to look for. Commercial buyers, or those looking for the toughest tables around, should browse our Commercial football tables department.
If you're buying for fun family games, then check out our Home football tables department - and if you're short on space, you might want to check out the folding football tables that we offer. And don't forget to stock up on accessories!
This article was written by Liberty Games staff member

Sales Executive at Liberty Games. Specialises in foosball tables and table tennis equipment. He's a keen footballer and fitness enthusiast, and recently completed the Brighton Marathon.