Buying Advice

Jukeboxes

(8)

>

Accessories

(2)

>

Air Hockey

(12)

>

Arcade Machines

(2)

>

Commercial Equipment

(2)

>

Multi Games

(2)

>

Pinball

(3)

>

Pool Cues

(3)

>

Pool Tables

(17)

>

Shuffleboard

(3)

>

Snooker Tables

(7)

>

Table Football

(6)

>

Table Tennis

(2)

>
Jukebox Buyer's Guide
If you're looking for a new jukebox, you've come to the right place. Our comprehensive guide will allow you to make the right decision and choose the best jukebox to suit you.
Read the whole piece and get informed about these exciting audio centres, or use the quick links below to jump instantly to a section of interest.
Overview
In the modern age of high-tech speaker bars, surround sound systems and home cinema, it's easy to forget where home audio centres started.
Jukeboxes, meaning music players that can automatically change records, have been around for 100 years or so. But the word 'jukebox' wasn't used until the 1940s in the USA, where jukeboxes could be found in "juke joints" - or rowdy, late night bars. These grew into the classic jukeboxes as we know them today, with spectacular light shows, lavish chrome or metal trim, and of course, the legendary bubble tube displays.
For the more budget-conscious jukebox fans, there's a large range of miniature or replica jukeboxes available. These offer much the same connectivity and style, but in a smaller, more reasonably-priced package.
Today the jukebox is still with us. They've largely disappeared from bars and social venues, replaced with smaller, internet-connected digital jukeboxes. These digital jukeboxes tend to allow access to many more tracks, and also help venue operators with advertising tools, sales analytics and much more. Some even play music videos or animations on the screen.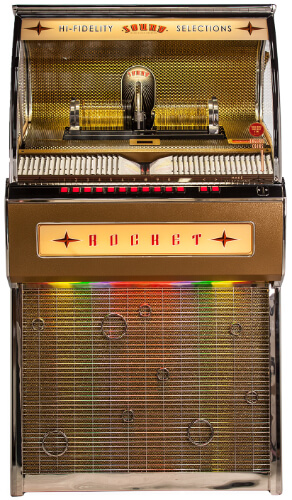 The Sound Leisure Rocket Vinyl jukebox. (From £7865.00) [ view in store ]
So for those oldskool bars with a vintage theme, for music purists and audiophiles, and of course for many dedicated music fans and collectors, only a "real" jukebox will do. But what is a "real" jukebox, and what features do they include?
Types of Jukebox
Free-Standing Jukeboxes
Free-standing jukeboxes are the full-size, premium jukeboxes. They're based on that same 1950s cafe style that you'll recognise from films of the era. There are only really two manufacturers still making these jukeboxes in numbers; Rock-Ola in the USA, and Sound Leisure here in the UK.
In many ways these large, impressive jukeboxes are a superb blend of classic styling and ultra-modern technology. Depending on the model you'll find CD changers, vinyl changers, integrated hard drives, touchscreen controls and impressive, top-of-the-range sound systems.
They're big, bright and full of immersive sound - with price tags to match. Made from solid wood, metal and quality audio/visual components, these are the classic Rolls-Royces of home audio systems.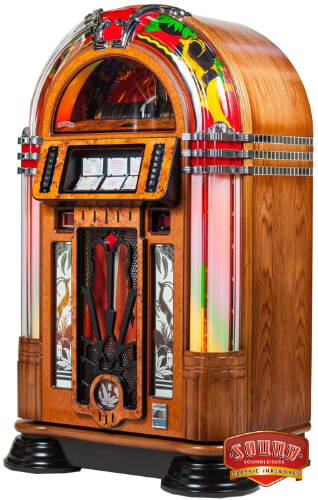 The Sound Leisure Gazelle jukebox. (From £8646.00) [ view in store ]
Mini or Replica Jukeboxes
These smaller jukeboxes are most often styled along the same lines as the free-standing jukeboxes, but are more compact and priced at a much lower level.
They produce great sound quality and often have impressive light displays with built-in LEDs and colour tubes. And many now support ultra-modern connectivity such as Bluetooth.
If you don't have the space or budget for a full-size jukebox, or you're just looking for a fun home music player with a lot of personality, these mini jukeboxes may well suit you.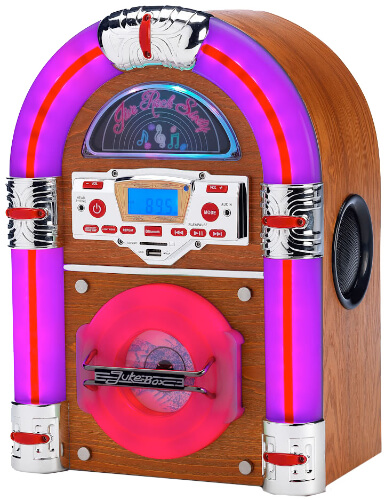 The Steepletone Jive Rock 60 mini jukebox. (From £139.00) [ view in store ]
Digital Jukeboxes
Made primarily for commercial venues like bars and clubs, but also suitable for homes that want a versatile and complete music experience, these small, versatile digital jukeboxes are usually wall-mounted.
Connecting to the internet and from there to a subscription-based music plan, they can offer an almost infinite music selection, plus venue-friendly functions like videos, touchscreen controls, advertisements and promotions, and lots more.
These devices are ideal for busy clubs and bars where the crowd is young and the music is loud! They're a lot cheaper than a superstar DJ, and unlike superstar DJs, they're more than happy to take requests.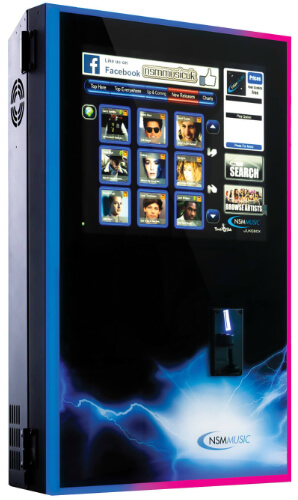 The NSM Lightning commercial jukebox. (From £3495.00) [ view in store ]
Music Sources
Jukeboxes can play music from a huge variety of different sources. Most are focused on a particular format and offer others as backups, or to widen the jukebox's versatility. For example, it would be unusual to find a jukebox that can play CD and vinyl (although the ??? can play both), but most CD or vinyl jukeboxes will also allow secondary connectivity; via Bluetooth, radio or aux-in.

Vinyl
The most-desired music format for full-size jukeboxes has to be vinyl. And yes, there are still a few vinyl jukeboxes being manufactured today. Proper full-size jukeboxes will feature a loader - a mechanism into which you can insert multiple records, complete with inlay cards, which you can often customise - as well as top-quality record player components for the very best sound.
Of course the premium, full-size jukebox range includes many models with vinyl capability. But an increasing number of the lower-cost mini jukeboxes are also being produced with built-in record players. It's easy to get yourself equipped with some form of vinyl jukebox, whatever your budget.

Compact Disc
The alternative physical medium for jukeboxes is CDs. CDs are a lot more flexible than vinyl records - they're cheaper to buy, more releases are easily available on CD, and you can burn your own CDs from your computer to make a curated collection for your jukebox.
Purists will say that whilst superior to most digital music media formats, that are often heavily-compressed or lossy, CDs still don't quite have the full-fat, analogue sound of a physical, precision-cut piece of vinyl. It's an argument that has raged ever since CDs were invented… and it continues to rage to this day.
Full-size CD jukeboxes will usually have a CD changer mechanism, where you pre-load a number of CDs and program the jukebox to select them on demand. The CD players on smaller 'replica' jukeboxes may be simple single CD units, where you load the CD in when you want to play it - more like a conventional CD player.
If the music you want to load isn't widely available - perhaps it's your own music, or the band that played at your wedding - you can manually input the metadata, and load music and artwork yourself.

Digital Media - Bluetooth
All Rock-Ola jukeboxes are now manufactured with Bluetooth capability, and Sound Leisure offers it as an optional extra. This enables you to connect your phone, tablet, smart speaker or other media player directly to the jukebox, and use it as a speaker system.
You'll have all the music on the internet at your command, including services like Spotify, Mixcloud, Apple Music or Tidal. See all our Bluetooth-ready jukeboxes here.

Digital Media - USB
Many jukeboxes now are built with USB sockets too. In some cases the jukebox will play music directly from the USB, or from a hard drive plugged into the USB socket.
This opens up a whole world of possible connections, including mobile phones and media players. You can even use it to charge your phone battery.

Apple devices
Some jukeboxes, such as the Rock-Ola family, are available with optional iPod docks. Just pop your device into the cradle to access your iPod library instantly. And it'll keep your battery topped up while it plays.

Aux/Line In
Finally, the most basic way of connecting anything to your jukebox will be using the line in. Almost all jukeboxes will have a 3.5mm mini jack input, so you can plug in a whole variety of devices and inputs. It basically turns the jukebox into a massive set of headphones.
And some may have RCA or phono sockets too. Adaptors and cables to connect a huge range of devices are generally available to suit both these versatile formats.

Radio
Many jukeboxes are fitted with aerials and can pick up radio signals.
Use your radio to pick up DAB signals - perhaps your favourite music or current affairs station, or just catch up on the live sport.

Digital Media - Internal Hard Drive
Some of the top-of-the-range Rock-Ola models don't play records or CDs. Instead, they're built with huge internal hard drives ready to be loaded up. The standard size is 1TB, which is enough memory to hold thousands of CDs.
You can copy your CDs onto the drive via the single built-in CD player, and the jukebox then obtains cover art, metadata and more via your internet connection, allowing you to build a huge digital library of music.

More Connectivity
Many jukeboxes, especially the larger, more expensive ones, may also have audio outputs. This would mean that you can connect other speakers to the jukebox for an even better sound. Perhaps you already have a home cinema system, surround sound or a quality hifi. Plug it into the jukebox for a spectacular audio experience.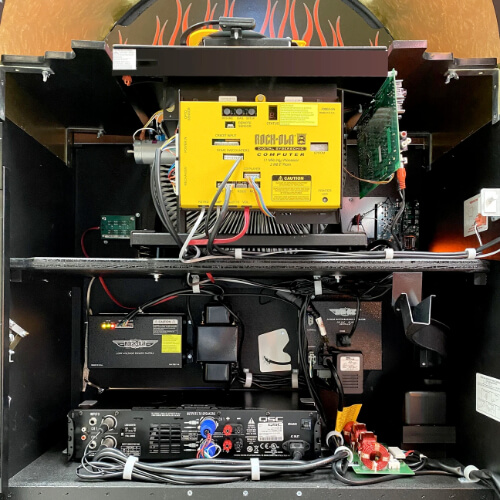 Various connections & inputs on the rear inside of the Rock-Ola H-D Flames jukebox. (From £10795.00) [ view in store ]
Visuals
As the centrepiece of your home, bar or business, a full-size jukebox is packed with features to make it really stand out. Light displays are the norm, with some classically-styled jukeboxes fitted with bubble tubes. These fluid-filled tubes are generally fitted over a light display, and air pumps built into the tubes provide a steady stream of air bubbles that pulsate and shimmer in a style than can only be described as "groovy".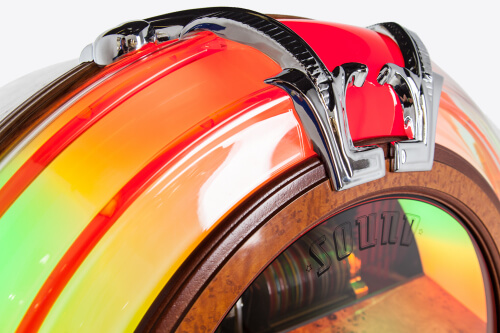 The Sound Leisure Manhattan jukebox's light tubes. (From £8646.00) [ view in store ]
CD and vinyl jukeboxes also provide a unique visual spectacle. Choose your preferred song and watch as the selector mechanism retrieves the correct title, and loads it automatically right in front of your eyes.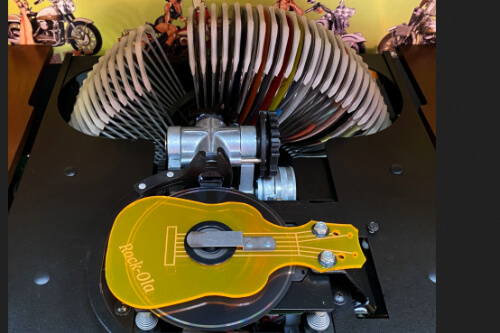 The CD player on the Rock-Ola Bubbler American Beauties jukebox. (From £10795.00) [ view in store ]
Installation
Almost all jukeboxes are pre-assembled and ready to go. On some models there may be some assembly needed, but most are delivered ready to plug in and switch on.
If you've chosen a CD or vinyl jukebox, you can now start loading your changing mechanism (and even preparing your custom title cards - you can make your own custom cards using special software for some jukeboxes).
Space
Jukeboxes don't need much space around them. You should check the dimensions of the jukebox on the listing before buying, and ensure that you have enough space. If you are pushed for space, there are more shallow variants available, such as the Sound Leisure Melody Slimline jukebox.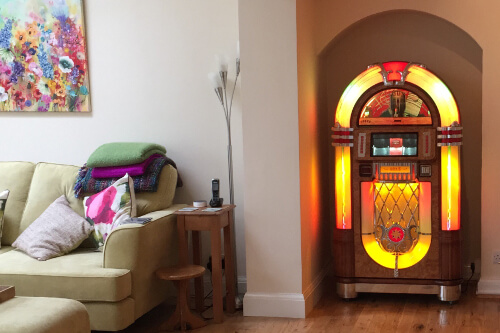 The Sound Leisure 1015 jukebox installed in a home. (From £8773.00) [ view in store ]
There is some evidence that allowing some open air space around the jukebox can improve the sound - something to bear in mind when you plan your layout. And if you'll be regularly connecting different devices to the jukebox, you'll need enough room to get to the connections panel on the rear.
Full-size jukeboxes are also pretty large. They can stand up to five feet high, and are usually delivered ready to plug in and play. So you'll need a clear, wide route through your house for the delivery team.
Now you've hopefully got a better idea of what to look for in your jukebox, and can browse our range of full-size jukeboxes, mini jukeboxes and digital jukeboxes to find your dream music centre.
This article was written by Liberty Games staff member

Sales Executive at Liberty Games. Specialist in commercial installations and jukeboxes. Enjoys discovering new music and reliving the golden age of Britpop.