Buying Advice

Air Hockey

(13)

>

Accessories

(2)

>

Arcade Machines

(3)

>

Commercial Equipment

(3)

>

Jukeboxes

(9)

>

Multi Games

(2)

>

Pinball

(5)

>

Pool Cues

(3)

>

Pool Tables

(20)

>

Shuffleboard

(4)

>

Snooker Tables

(7)

>

Table Football

(7)

>

Table Tennis

(2)

>
What is the Correct Size of an Air Hockey table?
Air hockey tables vary wildly in size, depending on their intended use. Of course, with such a physical playing style, air hockey tables need to be large enough to give the puck - and players - room to move.
Home tables start at around four feet in length. This size is intended mainly for younger children and families, where the reach of a player is limited by arm's length, and air hockey is generally combined with other games into a multigames table. At this size, older players and adults would have difficulty playing an enjoyable game, and sometimes these tables are slide hockey, rather than air hockey, due to lacking an air current on the playfield. See our range of 4ft home air hockey tables here.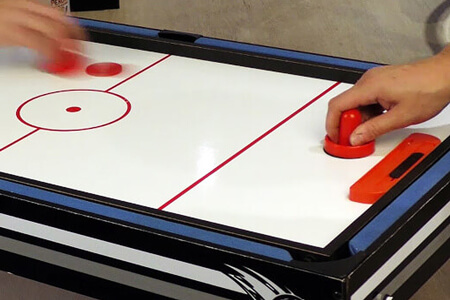 A game of slide hockey on the Tekscore Goal table. (From £139.00) [ view in store ]
Fun tables made especially with kids and families in mind are also available in 5ft, which is certainly better for larger members of the family to play on. There are also a few 5ft tables built to commercial standard with methacrylate playfields and professional features like scoring gantries, such as the SAM Baby. See our range of 5ft home air hockey tables in our shop.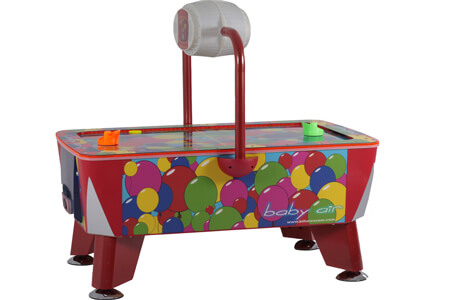 The SAM Baby Evo 5ft air hockey table, built to commercial standard. (From £4650.00) [ view in store ]
The most common size for home tables is six feet in length. This is large enough for almost all children to enjoy (and if they're slightly too small, they'll soon grow into it), and large enough to allow adults to get into their stride too. You can view a large selection of our 6ft home air hockey tables here.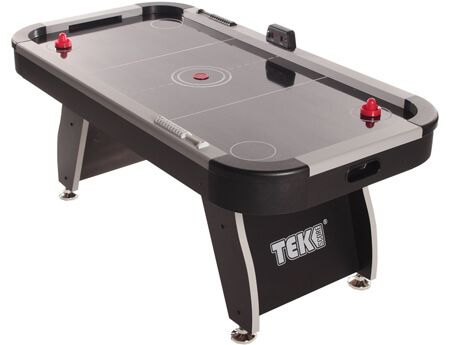 The Tekscore Jet 6ft home air hockey table. (From £299.00) [ view in store ]
The biggest dedicated home tables are made in 7ft size. This is plenty big enough for adults and children alike to play on and, if it's a wide model like the Pro Ice below, could be wide enough to allow for games of doubles. Browse our range of 7ft home air hockey tables here.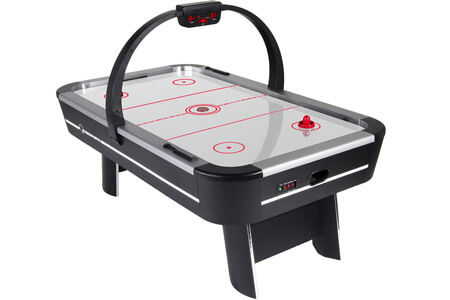 The Strikeworth Pro Ice 7ft home air hockey table. (From £695.00) [ view in store ]
But the official size for an air hockey table, and now we're talking about the large, commercial-standard tables that you'll find in arcades and bars, is 8ft in length. This is easily large enough for all players to have a really fast, hectic game, with loads of space for tactical shooting and clever rebounds. Many 8ft commercial tables are also available in 7ft size, for installations where space is slightly limited, and a few models come in 6ft too. Another unofficial commercial table size is the 8ft double. These tables are 8ft in length, like other commercial tables, but much wider across the playfield. This gives room for two players at each end, to create an absolutely electric game of high-speed doubles. See our full range of commercial air hockey tables here.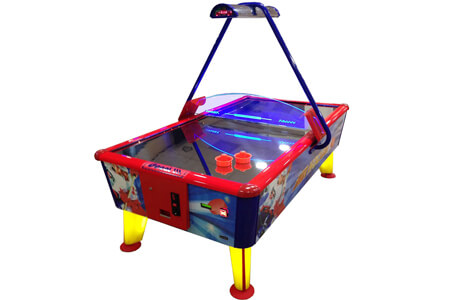 The Wik Gold 8ft air hockey table. (From £4595.00) [ view in store ]
You can read more about the different table sizes, how to measure up your room and what features to look for in our detailed Air Hockey Table Buyer's Guide.
This article was written by Liberty Games staff member

Sales Executive at Liberty Games. Specialises in foosball tables and table tennis equipment. He's a keen footballer and fitness enthusiast, and recently completed the Brighton Marathon.