Air Hockey Table Buyer's Guide
Air hockey tables make a great addition to home games rooms and commercial businesses alike. Read our comprehensive guide on what to look for, or use the quick links below to jump to the relevant section and get an answer - fast.
Air hockey is one of the fastest, most exciting table games around. For decades, the trademark 'ping' of pucks ricocheting around on a cushion of air have provided the soundtrack to every arcade and bowling alley in the country.
In this fast-paced game, airflow is created by powerful air pumps inside the table. These blow air up through thousands of tiny perforations in the playfield, creating an updraft that makes the puck hover on the surface. With minimal friction holding the puck back, it glides smoothly and can travel at lightning speed if a powerful shot is played.
Players stand at either end of the table and hit the puck with a pusher, aiming for the opponent's goal. The playfield is edged with rails, which are designed to rebound the puck back into play. A large part of the skill of air hockey is learning to use these rails to confuse and out-play your opponent from surprise angles.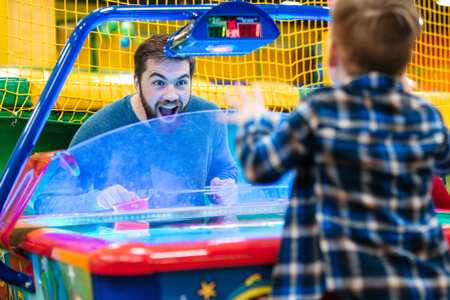 A Wik Magic air hockey table in an arcade. (From £3995.00) [ view in store ]
Today there's a huge range of air hockey tables available, whether you're buying for your family games room, your commercial venue, your office break room or your garden patio. Now you can enjoy this high-speed test of reaction times and skill anytime you like.
Here we explain all the options so you can be clear about exactly which table is right for you.
Home or Commercial?
Air hockey tables can be divided into two categories; home tables and commercial tables. The differences are huge, not least in terms of price and performance.
Home air hockey tables are intended for use at home. This would be for light usage by a family or similar, where the priorities are fun games and great value. Often home tables are no larger than six feet, although there are some seven-foot models, and occasionally they are combined with other games into a multigames table. The fans are reasonably powerful, and lift the puck on a cushion of air for a smooth, fast, gliding action.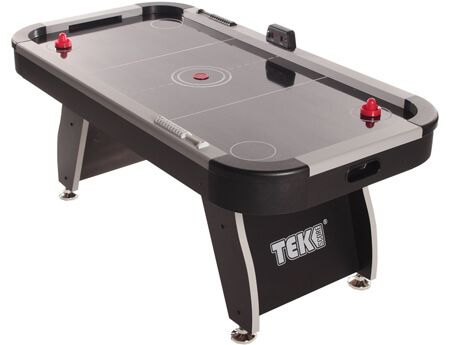 The Tekscore Jet home air hockey table. (From £359.00) [ view in store ]
Commercial air hockey tables are built to arcade standard. This means they're tough, well-engineered and built to provide an excellent game, with powerful fan motors creating plenty of uplift. They can of course be installed in the home, if you're looking for a really high quality game, but we would always advise against installing a home table in a commercial premises.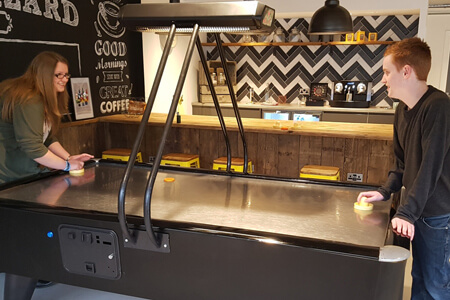 A Black Track table in an office break room. (From £6000.00) [ view in store ]
The tables are built differently. Commercial tables are generally built from solid ply, often with a stainless steel play surface. The rails are also solid steel, and these tables usually have an arch over the table with a scoring unit mounted to it. Airflow fans are powerful centrifugal items, designed to offer consistent airflow for many hundreds of hours of use.
Home tables are more lightweight, with a lighter MDF construction making it easier to manage. Some home tables use a centrifugal fan, similar to those in the commercial tables, but others use a more basic flat fan. The more expensive home tables might have an arch with a scorer mounted to it, but many don't, and instead have a small scoring unit mounted to the side of the playfield somewhere.
The best way to approach your choice is to decide on who will be using the table, and how much use the table will receive. If for example you are purchasing the table for very young kids, then a simple spec 5ft or 6ft home air hockey will be ideal. The expensive electronic scorers are replaced by normal abacus-style scorers, and the size or height of the table is going to be appropriate. Larger 6ft or 7ft home tables are a good compromise if you have adults or older children who want to play too.
But if your table is likely to receive a lot of use and possibly abuse by members of the public, you should consider a more durable commercial table, especially if you're planning on charging for game credits.
How much space do I need?
Air hockey tables require enough space at each end for a player to play. Each player should have at least one metre between the table edge and any obstructions like walls. This gives you plenty of room to move around and return shots with ease.
Unlike pool tables, air hockey tables can be put lengthways against a wall, meaning you can squeeze it into a smaller room.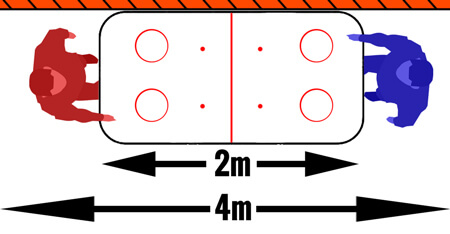 You should also consider how easy it will be to get the table into your room. Although the legs and scoring gantries can be easily detached, commercial table cabinets can be large and often quite deep. Check the intended route to your room for stairs, sharp turns and obstructions, to make sure the table can be carried in. If in doubt, take a walkthrough video and contact our sales staff for further advice.
What size table should I buy?
Air hockey tables come in a range of sizes, starting from around four feet in length and going right up to eight feet. You should pick one that gives you enough room to move around it with ease.
Commercial tables are made to a standard size of around eight feet, with seven-foot tables also widely available for both homes and public venues.
If you have space, there are also machines especially built for doubles. With a wider cabinet and plenty of space for two players at each end, it's great for players to team up on.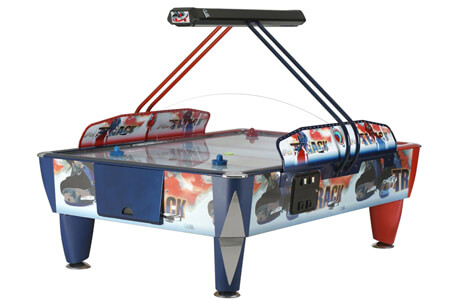 A SAM Fast Track Double air hockey table. (From £8400.00) [ view in store ]
What power supply is required?
All air hockey tables are electrically-operated, with powerful electric fans providing the air current. They are supplied ready to plug in, with a UK plug wired in, so you should ensure that you have a power socket in the vicinity of the table's planned location.
Are there any particular brands to look for?
In terms of home tables, there are many manufacturers making air hockey tables. Some of the most popular include Strikeworth, Tekscore, Buffalo and BCE. These tables offer the best value for home installations and families, and will provide plenty of exciting gaming for years to come.
If you're looking for a commercial table, the main manufacturers are SAM Leisure and WIK. These producers make plenty of real arcade-standard tables in many different sizes and colourschemes. Also, arcade giants SEGA make a handful of air hockey tables, like the popular Sonic Sports model.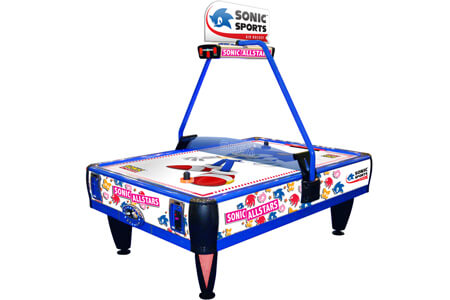 The SEGA Sonic Sports air hockey table. (From £5495.00) [ view in store ]
Some, like the SAM Superstrike, are built to commercial standards with methacrylate playfields and stylish features like LED score displays recessed into the playfield, but are intended more for homes or private games rooms, as they lack coin mechanisms.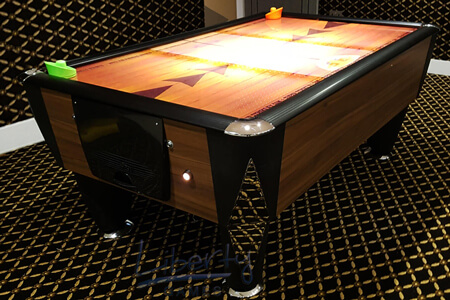 A SAM Superstrike commercial-standard home air hockey table. (From £4300.00) [ view in store ]
Which playfield is best?
Home tables usually have playfields made of wood or plastic, with a smooth, low-friction vinyl covering. These tables are fine for fun games and casual use, especially on tables bought for children or family games.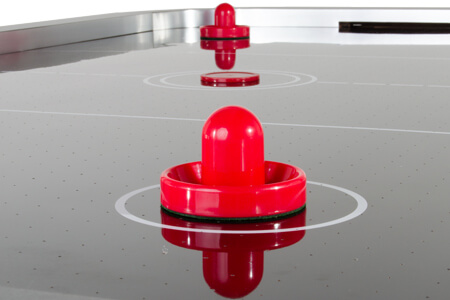 The vinyl playfield on the Pro Ice air hockey table. (From £695.00) [ view in store ]
Commercial tables tend to have metal playfields, usually a highly-polished steel. These are extremely durable and resistant to damage.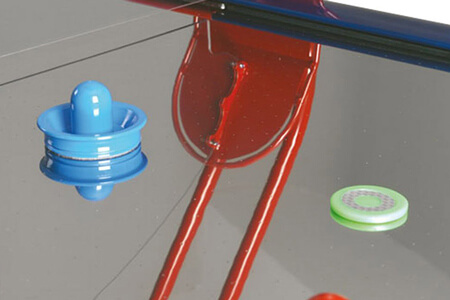 The metal playfield on a SAM Fast Track. (From £5150.00) [ view in store ]
Some commercial tables, including outdoor tables, have a high-quality polycarbonate or methacrylate playfield. This gives all of the performance of a metal playfield, but with the ability to be transparent (and therefore show printed graphics or lighting effects underneath). These are also sometimes used on outdoor tables, where untreated metal playfields might rust.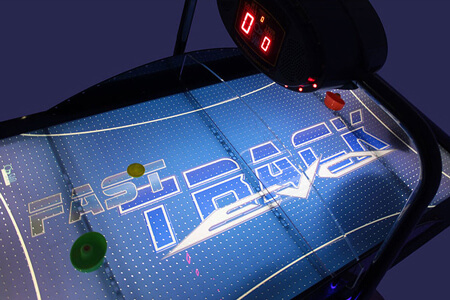 A SAM Fast Track Evo methacrylate playfield with graphics & lighting effects. (From £7350.00) [ view in store ]
Almost all playfields are flat, but some of the new breed of commercial table have curved playfields. This literally adds a new dimension to the game, as the puck naturally slides back towards the centre of the playfield. With a little skill you can play clever curved shots around your opponent.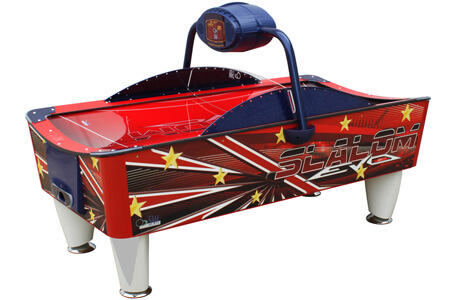 A SAM Slalom air hockey table with curved playfield. (From £7770.00) [ view in store ]
Some other machines have goal mouths in the playfield itself, with a passage of open playfield behind the goal, making a 'safe zone' for players to regain control of a fast-moving puck.
Which rails are best?
The rails are the sections of the table that surround the playfield. It's these that give the puck a good rebound, and also produce the 'ping' from the impact.
On home tables, rails are most often made of plastic, although some higher-end home tables, like the Strikeworth Pro Ice, feature metal rails. Commercial tables will have thick metal rails for the best gameplay.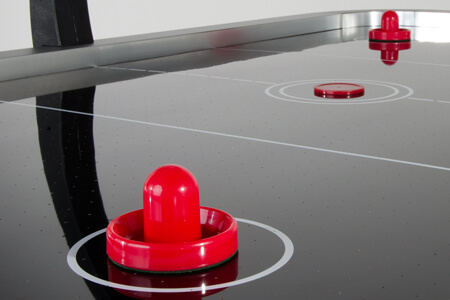 The playfield and rails on the Pro Ice air hockey. (From £695.00) [ view in store ]
Outdoor Tables
Dedicated outdoor air hockey tables are built to be used and played outside. These will have fully waterproofed electronics and a rust-proofed playfield made of treated metal or some kind of high-quality plastic.
Despite the weatherproofing, we would still advise that the table is brought inside or protected with a heavy-duty table cover during poor weather to keep it in perfect condition.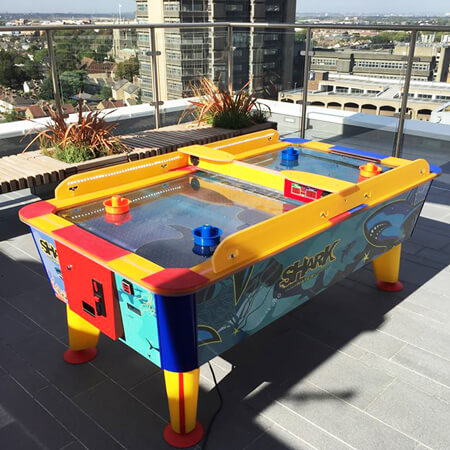 A Wik Shark outdoor air hockey table. (From £4895.00) [ view in store ]
Reconditioned Tables
Some commercial tables are often available as reconditioned examples. At Liberty Games, we take in used air hockey tables and let our technicians fully test and evaluate the machine. Any worn or broken components are replaced, and any cosmetic issues are sorted out.
When supplied with a good warranty for peace of mind, as ours are, it's a great way to own a true arcade-quality air hockey table at a knockdown price.
Scorers
The most basic scorers, that you'll find on many home tables, are simple abacus scorers. Just push a bead up the rail every time you score to keep count.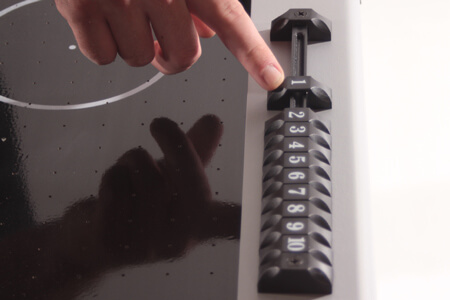 An abacus-style score counter on an air hockey table.
Some more advanced home tables feature electronic scoring. This system features automatic goal detection, where a goal is detected and automatically added to the tally of the scoring player.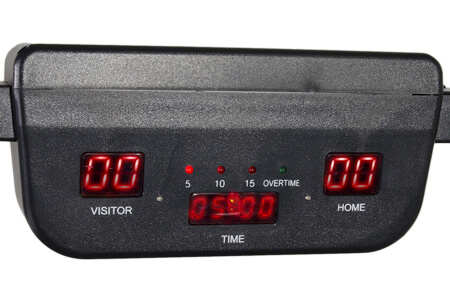 The electronic scorer on the Pro Ice home air hockey table. (From £695.00) [ view in store ]
Commercial tables have automatic goal detection. Often this is combined with audio commentary, flashing lights and sound effects, and the score is announced after each goal.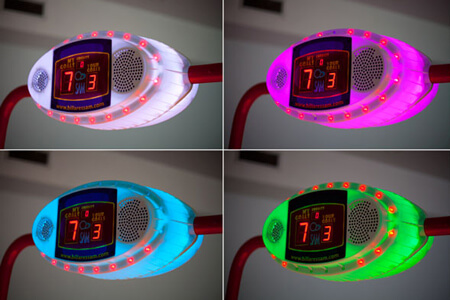 The electronic scorers found on the SAM range of tables.
Puck Size
The size of your puck will dictate your game quality. The smallest, lightest pucks tend to be supplied with smaller tables, where game speeds tend to be slower. They're perfectly fine on these small tables, where the focus is on a fun game, rather than outright shooting power. On larger tables, larger pucks are necessary because the extra weight stops them being bounced off the table. They also skim further and faster, thanks to the extra momentum they carry due to their weight.
If you want to play a faster game, you could look into buying a larger or heavier puck for your table, and you can see your options for different air hockey pucks here . But you should check with the manufacturer that the larger puck will function correctly, and not become jammed in the goal mouth or elsewhere.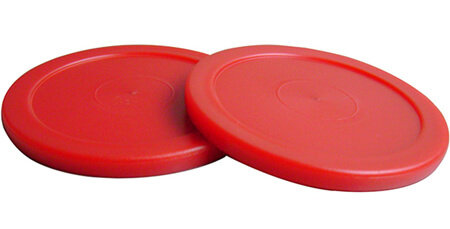 A set of small Strikeworth air hockey pucks. (From £9.99) [ view in store ]
Pushers
This is what you use to hit the puck. Also called 'paddles' or 'mallets', most often the pushers supplied with tables are simple plastic, but some higher-end versions feature shock-absorbing rubber impact rings. These can be a great help on commercial tables, where higher puck speeds and heavier pucks can give you a sore wrist after a while. Browse our air hockey pushers for upgrades or spares here.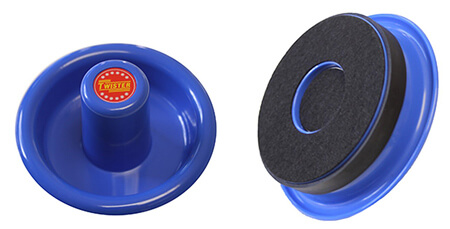 A set of Twister air hockey pushers with impact rings & felt bases. (From £15.99) [ view in store ]
Coin Operation
Coin-operated air hockey tables are the best option for a public premises where game credits are to be sold. Only commercial air hockey tables are generally fitted with coin mechs, which accept coin payments in return for credits. These can be adjusted according to the operator's requirements, or disabled entirely for common rooms or home installations.
Coin-op mechs can now even be converted to create contactless payment air hockey tables, making the selling of credits easy at the touch of a bank card.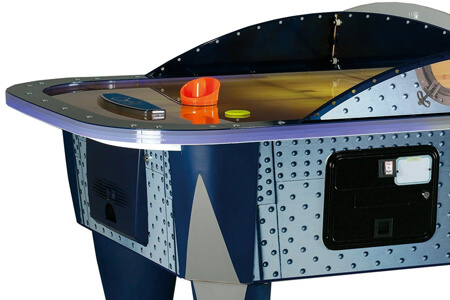 The coin mech on a Yukon Titan air hockey table.. (From £6199.00) [ view in store ]
Maintenance
Your air hockey table will need a little maintenance to keep it performing at its best. The most important thing is to keep the playfield clean, using an off-the-shelf surface cleaner and polishing the surface with a rag. You should use the cleaner very sparingly, so as not to block any of the air holes. This will keep the surface clean and reduce friction built up by dust or grime. Run the fan whilst you polish, as this should help to blow out any cleaner that goes into the holes.
You should also periodically check the fan unit inside, which can suck in dust that gradually reduces efficiency. Keep the unit clean, especially around the intake and the filter, if it has one.
Delivery
Your table will be delivered by a courier team. For the smallest home tables, this may be a mainstream courier. For larger, more specialised tables, it will likely be a two-man team who will assist you with handling it. For really high-end commercial tables, the delivery team may also install and test the table for you before leaving.
Specific delivery details for each table can be found at the bottom of each product listing. Be sure to check these before you order.
Go shopping!
Now you know what to look for in an air hockey table, all that's left is for you to browse our extensive range and choose the one that suits your space, your purpose and your tastes.
Alternatively, contact our friendly sales staff to discuss any further questions you have.
Tl;Dr
First, decide how your table will be used, for example occasionally in a family home, or constantly in a busy arcade. Measure your room to ensure your players will have enough space to enjoy the game.
This article was written by Liberty Games staff member

Sales Executive at Liberty Games. Specialises in foosball tables and table tennis equipment. He's a keen footballer and fitness enthusiast, and recently completed the Brighton Marathon.