Buying Advice

Air Hockey

(12)

>

Accessories

(2)

>

Arcade Machines

(2)

>

Commercial Equipment

(2)

>

Jukeboxes

(8)

>

Multi Games

(2)

>

Pinball

(3)

>

Pool Cues

(3)

>

Pool Tables

(17)

>

Shuffleboard

(3)

>

Snooker Tables

(7)

>

Table Football

(6)

>

Table Tennis

(2)

>
Can I use a Home Air Hockey Table in a Communal Area, such as a Youth Centre?
Air hockey tables are great for communal areas like youth centres, common rooms or break rooms. In offices and workplaces, an air hockey table is ideal for those lunchtime tournaments. Employees socialise with their colleagues whilst playing in ways that they might not do otherwise, cementing relationships and increasing employee happiness – and productivity.
As a result, they are popular installations in places of work or socialising, because of their exciting playability, low maintenance and easy operation. But not all tables are suitable for installing in such environments.
If the table is likely to receive prolonged use from multiple players, like you'd expect in a youth club, we would recommend installing a commercial table instead of a home table.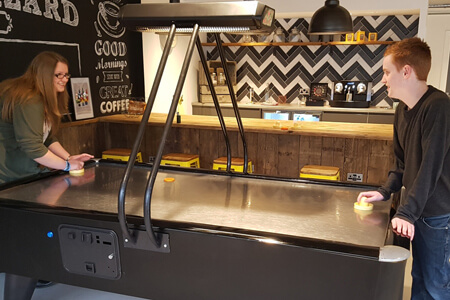 A Black Track table in an office break room. (From £6000.00) [ view in store ]
Home air hockey tables are built to a price point, and designed for more gentle, occasional use by people who will look after them carefully. With lighweight wooden playfields and usually wood or plastic construction, they aren't intended to withstand the rigours of an area where they can be knocked, played boisterously, or are vulnerable to accidents or spillages.
Commercial air hockey tables are built more solidly, with heavier wood forming the cabinet, protective metal corner caps and trim, and vinyl graphics that are designed to withstand damage. They also have tough metal, methacrylate or polycarbonate playfields that are extremely durable, and resistant to liquid damage. With tough metal components and arcade-standard features, they are designed to provide excellent games for many thousands of hours of use, with absolute reliability.
Another benefit of commercial tables is that they almost all feature coin operation. Of course, in most workplaces, the coin mech can be set to freeplay and bypassed entirely, but it does offer scope for competitions. You could form teams at your youth club to play for tokens, or perhaps you could encourage your best sales teams to compete for control of the bag of tokens for the following week. This means they'd be able to challenge anyone in the office to a game, any time.
To find out more on the different types and features of air hockey tables, read our comprehensive Air Hockey Table Buyer's Guide.
This article was written by Liberty Games staff member

Sales Executive at Liberty Games. Specialises in foosball tables and table tennis equipment. He's a keen footballer and fitness enthusiast, and recently completed the Brighton Marathon.