Buying Advice

Air Hockey

(13)

>

Accessories

(2)

>

Arcade Machines

(3)

>

Commercial Equipment

(3)

>

Jukeboxes

(9)

>

Multi Games

(2)

>

Pinball

(5)

>

Pool Cues

(3)

>

Pool Tables

(20)

>

Shuffleboard

(4)

>

Snooker Tables

(7)

>

Table Football

(7)

>

Table Tennis

(2)

>
What is an Air Hockey Table & How Does it Work?
An air hockey table is the platform for one of the most popular, enduring arcade games of recent decades.
It was originally invented by a team of game designers from a billiard table manufacturer in the USA, who worked on the design and patented it in the late 1960s and early 1970s. They wanted to create a game that was faster and more exciting than pool, based on the popular sport of ice hockey.
The large, flat playfield was marked with ice hockey pitch markings and had a goal at each end. At first, the tables just featured sliding pucks, but soon the playfield was perforated with thousands of tiny holes. A powerful air current was forced through these holes by electric pumps to create an air cushion, upon which the puck would float – just like the puck 'floats' on the ice during an ice hockey match.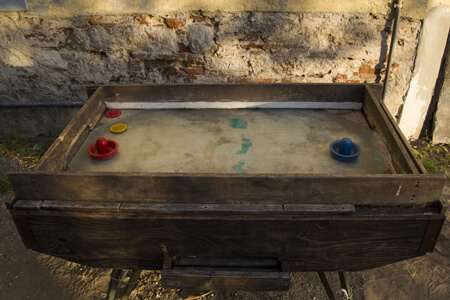 A vintage table hockey table.
The edge of the pitch is vertical and made of metal, rebounding the puck into the pitch upon impact and creating two unique aspects of the game – the hectic, zig-zagging rebound techniques used by the best players, and the trademark 'ping' sound that the impact creates. Players use 'pushers', also known as 'mallets' or 'paddles', to defend their goal and attack their opponents. The winner is the player who scores the most goals within a certain time, or reaches a pre-agreed goal limit.
This basic design has been carried through to the modern day, with only the tables' appearance and technology being updated through the years. Today it's a recognised sport in the USA, with official tournaments held annually and adjudicated by the United States Air-Table Hockey Association (USAA). Outside the USA, it's not an official sport, but commercial air hockey tables are a mainstay of amusement arcades, bars and venues across the country, and home air hockey tables are an increasingly popular addition to the private games room.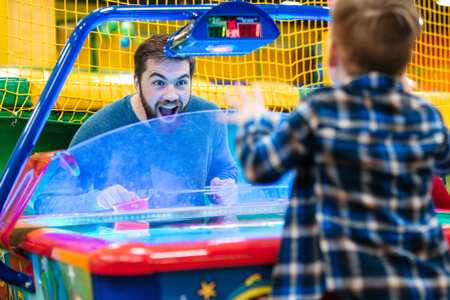 A Wik Magic air hockey table in an arcade. (From £4195.00) [ view in store ]
If you're looking to buy your own air hockey table, read our comprehensive Air Hockey Table Buyer's Guide and view our full range of air hockey tables and accessories.
This article was written by Liberty Games staff member

Sales Executive at Liberty Games. Specialises in foosball tables and table tennis equipment. He's a keen footballer and fitness enthusiast, and recently completed the Brighton Marathon.